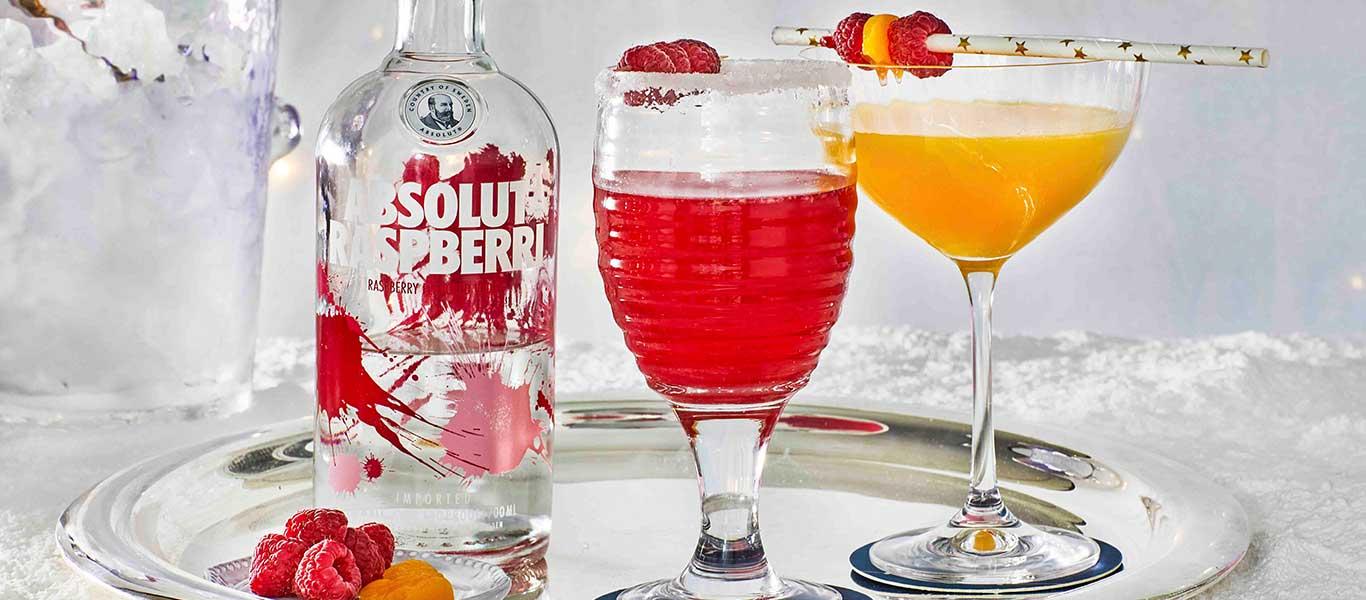 Ingredients
Peach Melba Cocktail
100ml Absolut Raspberri flavoured Vodka
1 x 420g tinned peach slices in syrup, one piece reserved
2 handfuls crushed ice
4 straws
8 raspberries, to garnish
Serves 4
Raspberri Vodka Cocktail
For the Sugar Syrup
100g caster sugar, plus extra for garnishing the glass
200ml water
For the Cocktail
100ml Absolut Raspberri flavoured Vodka

(2 double shots)

100ml cranberry juice

½ lemon, juiced
50ml sugar syrup
100g raspberries, pressed through a sieve into a bowl
ice cubes
6 raspberries, to garnish
2 cocktail sticks
Serves 2
Method
Peach Melba Cocktail
Put the raspberri vodka, peaches and syrup into a food blender with two small handfuls of ice and blitz to a smooth puree.

Pour into 4 cocktail glasses.

Cut the reserved slice of peach into 4. slide 1 raspberry onto the end of each straw, followed by one piece of peach and a second raspberry. Place across the top of the glass. Drink straight away!
Raspberri Vodka Cocktail
To make the sugar syrup, place the sugar and water in a saucepan and dissolve the sugar on a low heat, stirring occasionally.  Allow to cool.  Transfer to a jar, cover and leave in the fridge until ready to use.

Place a small amount of sugar syrup in a shallow bowl, and place a thin layer of caster sugar in a second shallow bowl. Dip the rim of a cocktail glass into the syrup then dip in the sugar – you'll have coated the rim with sugar. Repeat with a second glass then set aside.

Half fill a cocktail shaker with ice. Pour the Absolut Raspberri flavoured Vodka over the top, then add the cranberry juice, lemon juice, sugar syrup and raspberry puree. Shake well then strain into a cocktail glass.

Thread 3 raspberries onto each of the cocktail sticks and place on the rim of the glasses. Serve straight away.