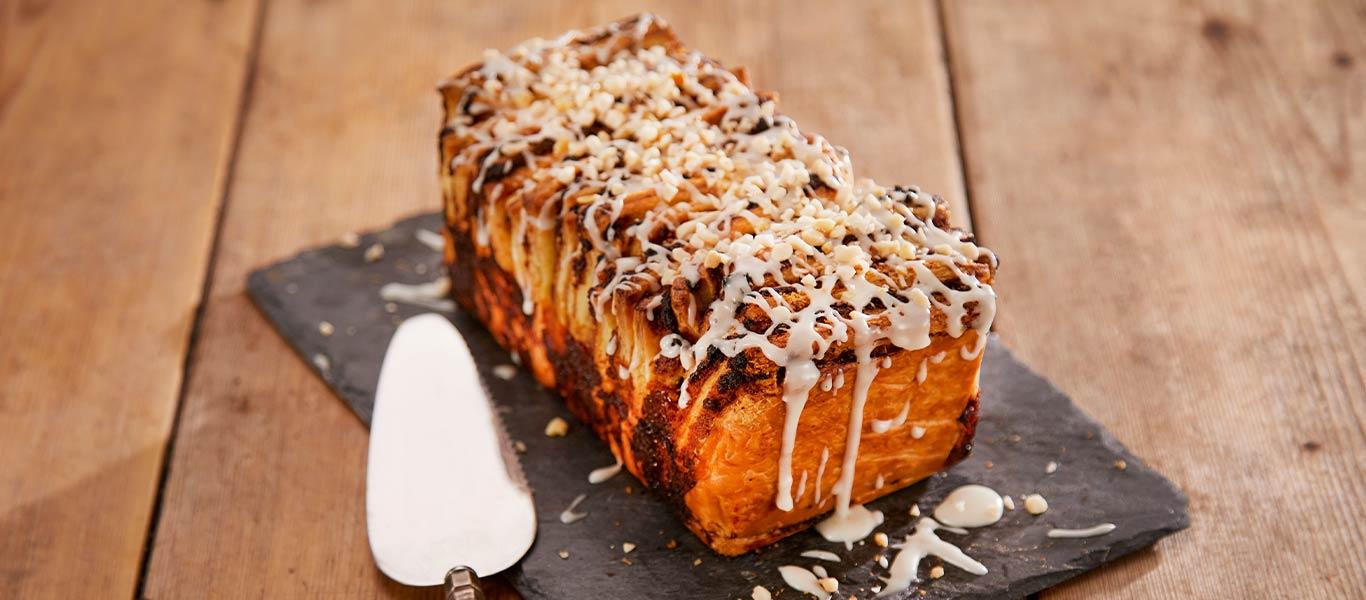 Ingredients
3 x 320g ready rolled puff pastry
150g soft light brown sugar
4 tsp ground cinnamon
150g ground almonds
1 tbsp vanilla extract
2 oranges, zested and juiced
50g icing sugar
1 tbsp mixed chopped nuts
Method
Preheat the oven to 200°C, fan 180°C, gas mark 6. Grease and line the base and sides of a 1kg loaf tin.

Unroll the pastry onto its parchment paper and set to one side.

Tip the sugar, ground cinnamon, ground almonds, vanilla, orange zest and all but 1 tsp juice into a bowl and mix until combined and smooth.

Spread out over the pastry then cut the pastry into 12 rectangles – place the pastry landscape shape in front of you, cut into 4 top to bottom, then horizontally across into 3.

Stack them on top of each other, sugar side up, in piles then lift the piles, one at a time, into the loaf tin and turn so the sugar sides are facing the end of the tin. Continue to press in gently until they fill the tin.

Place in the oven to bake for 1½ hours until golden brown and the pastry has cooked all the way through.

Meanwhile, tip the icing sugar into a bowl, add the remaining 1 tsp orange juice and mix until smooth - you want a runny icing, but not liquid!

When the loaf is ready, remove and allow to cool to room temperature before tipping out onto a serving board.

Drizzle the icing over the top then scatter with the chopped nuts.