Desserts Almond & Hazelnut Meringue Cake
---
Preparation Time: 25 minutes
Cooking Time: 1 hour 25 minutes Plus cooling time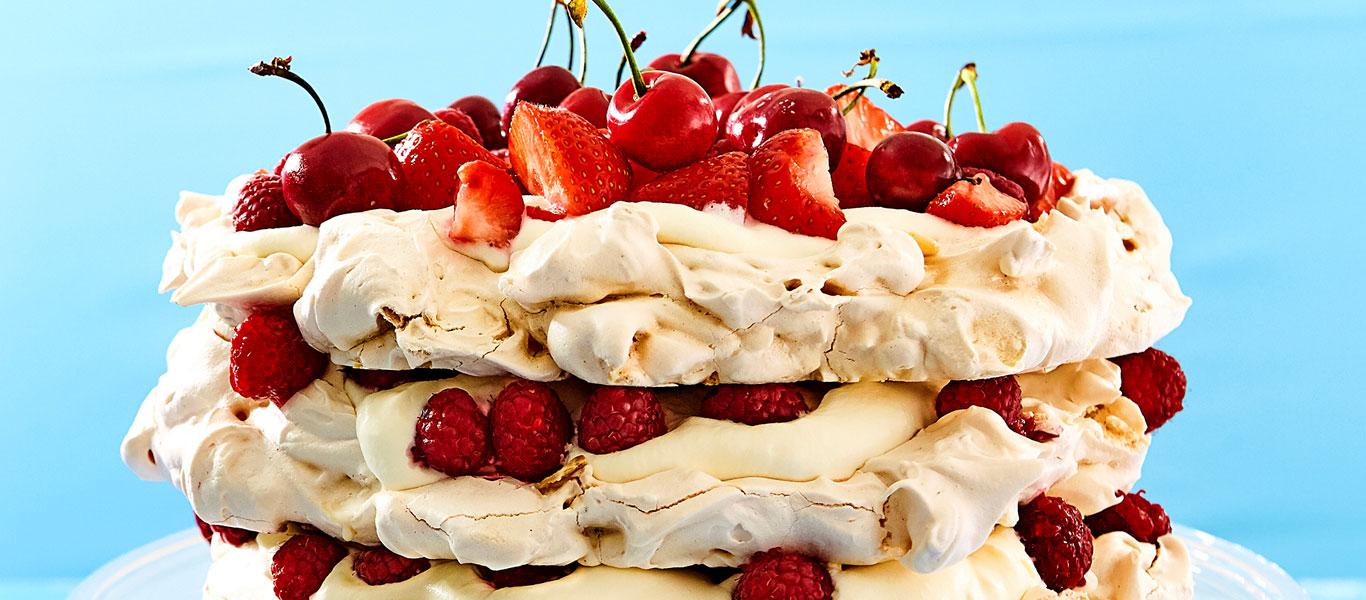 Ingredients
50g skinless hazelnuts, lightly toasted and ground coarsely

50g flaked almonds, half toasted and ground coarsely

4 medium free range egg whites, at room temperature

225g caster sugar

1 tsp white wine vinegar
For the filling
300ml whipping cream

1 tsp vanilla essence

150g raspberries, lightly crushed if large
For the top
250g mix of strawberries, halved, raspberries, blueberries and blackberries

icing sugar, to garnish
For the raspberry sauce
300g raspberries

4-6 tbsp icing sugar, sifted

1-2 tbsp framboise, optional
Method
Preheat the oven to 140°C/Fan120°C/Gas Mark 1. Line 2 baking trays with baking parchment and draw a 20cm circle on each paper.

Place the egg whites in a large clean mixing bowl and beat with an 3 electric whisk until stiff.

Gradually beat in the caster sugar 1 dessert spoon at a time until the mixture is thick, stiff and glossy. Beat in the vinegar. Fold in the hazelnuts and the almonds using a large metal spoon. Put a dab of meringue mixture under each corner of the baking parchment to hold it in place. Divide the meringue equally between the centres of the 2 circles. Then use a palette knife to help shape the circles. Sprinkle the remaining almonds equally over both meringues. Place in the oven and bake for 1 hour 30 minutes. Swap the trays round half way through the cooking time. When cooking time is up turn off the oven and let the meringues cool completely inside the oven with the door slightly ajar.

Meanwhile, to make the raspberry sauce, push the raspberries through a sieve into a bowl. Slowly add the sugar. Taste for sharpness. If the sauce is too sharp add more sugar. Stir in the framboise, if using. Pour into a jug, cover and set aside in the fridge until ready to use.

Once the meringues have cooled take the meringues out of the oven. To assemble the meringues, whip the cream with the vanilla essence using an electric hand held whisk until it forms soft peaks. Remove the meringues from the baking parchment and place one of the meringues on a serving plate. Spread 2/3rds of the cream over the meringue. Top with the raspberries. Place the second meringue on top and spread with the remaining cream. Top with the fruit and dust lightly with icing sugar. Serve with the raspberry sauce.