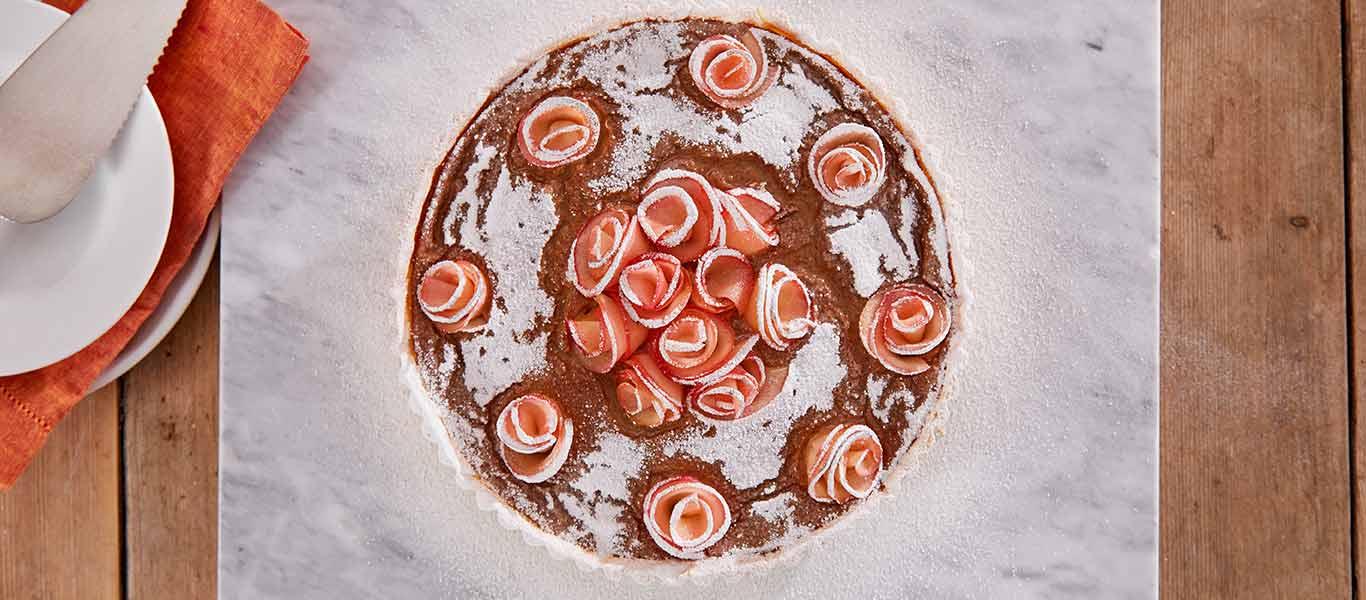 Ingredients
1 x 320g ready rolled shortcrust pastry
625ml semi skimmed milk
4 flat tbsp Birds Custard Powder
4 tbsp caster sugar
2 tsp vanilla extract
2 tsp ground cinnamon
2 eggs
3 Pink lady apples, finely sliced into rounds
½ lemon, juiced
Method
Preheat the oven to 190°C, fan 170°C, gas mark 5. Grease a 20cm loose bottomed tart tin.

Roll the pastry out so that it's just slightly larger than the tart tin. Lay the pastry into the case and press in gently to all edges, pulling the pastry up at the sides so that it hangs over the edge slightly.

Cover with greaseproof paper and fill with flour/rice or baking beans.

Place in the fridge to chill for 20 minutes if you have time – this will stop it shrinking back.

Spoon the custard powder, sugar and the ground cinnamon into a saucepan. Add 4 tbsp milk and mix until smooth.

Add the rest of the milk, stirring until combine then set over a medium heat and cook until thickened, stirring constantly.

Remove from the heat, beat well then cover with a piece of cling film and set aside to cool.

Meanwhile, place the tart case onto a baking tray in the oven for 15 minutes. Remove the baking parchment and beans then return to the oven for another 10 minutes until just cooked through.

Turn the oven down to 170C, fan 150C, gas mark 5.

Place the apple slices into a bowl with the lemon juice and toss until coated – this will keep them from discolouring.

Place in the microwave on high for 1 minute to just soften – they need to be soft enough to roll without breaking but not too hot, heat in 20 second bursts, stirring in between. Set aside to cool.

Beat the eggs into the cooled custard then spoon into the pastry case and smooth over.

Stack the apple slices up in 2's and make a cut into the centre. Twist the sides in opposite directions and roll them around to form a rose. Place 10 roses in the centre of the tart, then space 8 evenly around the custard to create a clock face.

Place the tart back in the oven for 30 minutes until just puffed up and set.

Remove and allow to cool for 15 minutes before decanting. Serve warm or cold.