Preparation Time: 15 minutes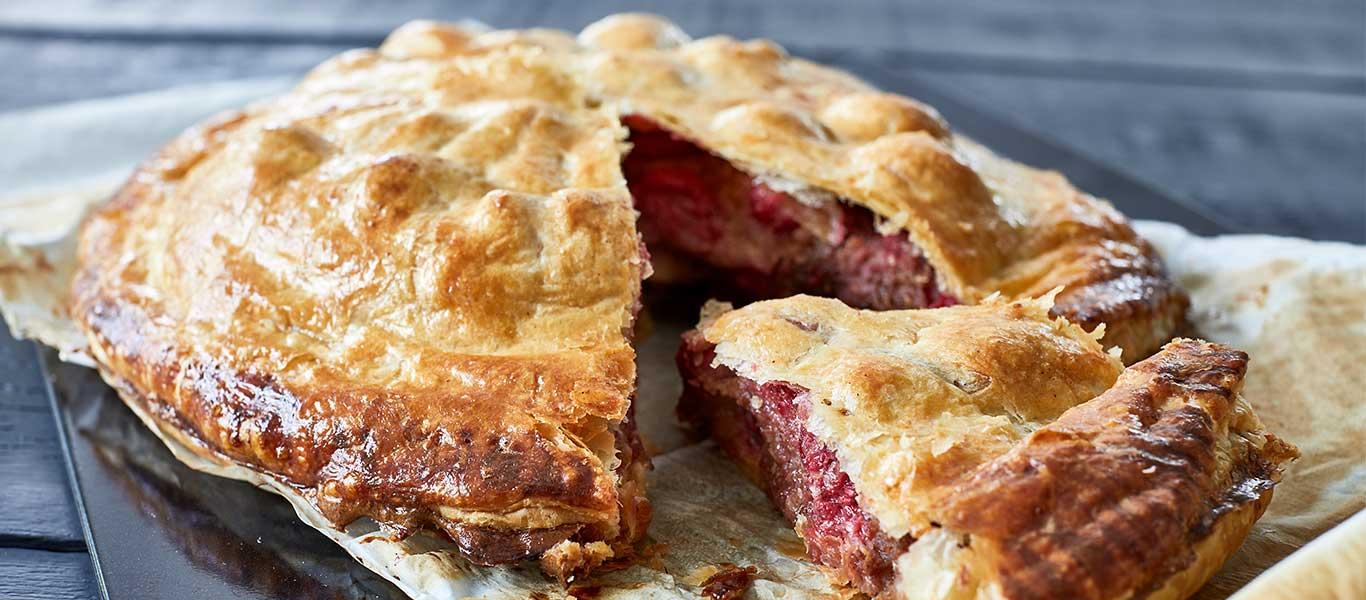 Ingredients
2 x 320g all butter puff pastry
5 Royal Gala apples, finely sliced
100g ground almonds
1 tsp ground cinnamon
100g demerara sugar, plus 1 teaspoon
240g raspberries
2 eggs, beaten
500g brown butter pecan ice cream or salted caramel ice cream, if desired
Nutrition
Calories column
Fat column
Saturates column
Sugars column
Salt column

Calories
342

per serving

17%

%GDA

Fat
20g

per serving

29%

%GDA

Saturates
9g

per serving

43%

%GDA

Sugars
20g

per serving

22%

%GDA

Salt
0.60g

per serving

10%

%GDA
Method
Preheat the oven to 180°/fan 160°/gas mark 4.

Remove the pastry from the fridge and allow to come to room temperature for 5 minutes – it just makes it easier to unroll.

Meanwhile, tip the ground almonds, cinnamon and demerara sugar into a bowl and mix together.

Unroll one sheet and place onto a large baking tray, still on its paper.

Layer 2 sliced apples over the pastry to form as a large a circle as possible, while keeping them 1cm in from the narrowest edge, and overlapping them so that you have a thick flat layer of apples.

Scatter a third of the almond mixture over the apples, then a third of the raspberries. Repeat with a layer of 2 more sliced apples, third of the almonds and raspberries, then the final sliced apple, almonds and raspberries.

Brush the edge with beaten egg.

Unroll the second sheet and roll out so that it is just a tiny bit thinner and bigger. Lay it gently over the top of the apple mound – you want it to cover the mound totally. Press down gently around the outside onto the egg washed pastry edge.

Cut around the edge of the mound in a circle, leaving a 1cm border of pastry. Brush all over with the beaten egg then crimp the edges with a fork. Scatter the last teaspoon of demerara sugar over the top.

Using the back of a table knife, make little arcs all around the top of the pithivier in a circle – these will open up slightly when it bakes and create a nice pattern.

Place in the oven to bake for 40 minutes until golden brown and crispy, and the apples just tender.

Leave to cool slightly before serving with the ice cream.