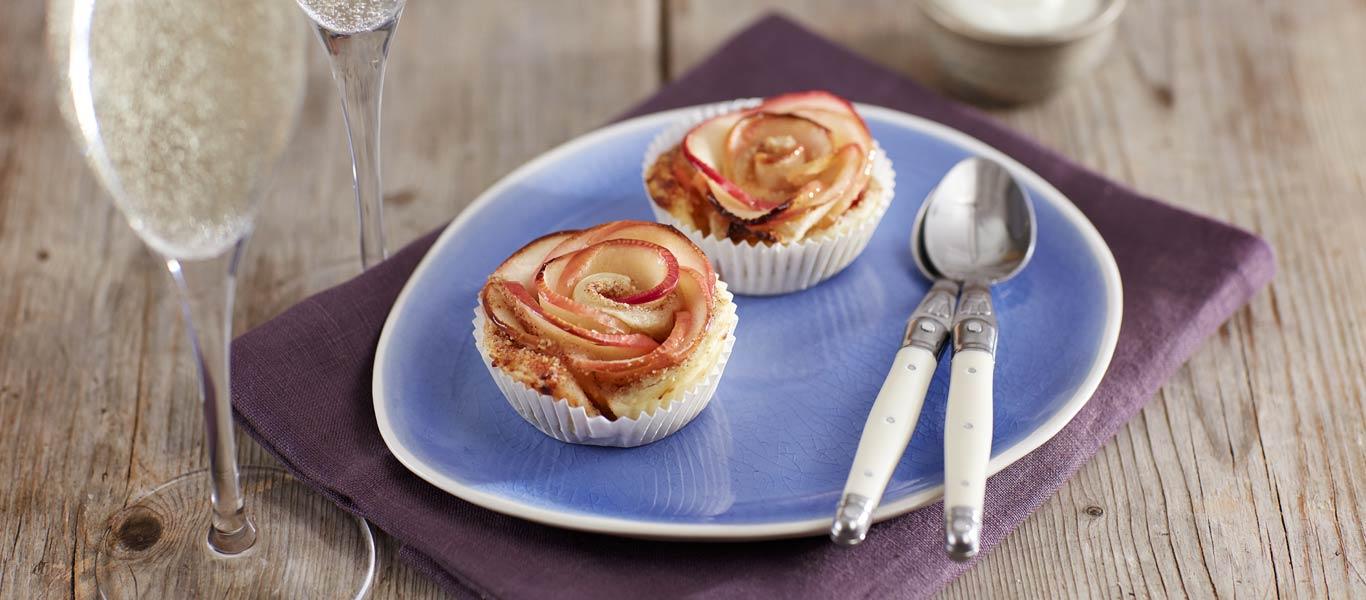 Ingredients
4 red skinned dessert apples
1 lemon, juiced
1 x 320g ready rolled short crust pastry, room temperature
1 egg, beaten
1 tsp ground cinnamon
2 tbsp icing sugar
50g ground almonds
60ml whipped double cream, optional
Nutrition
Calories column
Fat column
Saturates column
Sugars column
Salt column

Calories
219

per serving

11%

%GDA

Fat
14g

per serving

20%

%GDA

Saturates
5g

per serving

25%

%GDA

Sugars
9g

per serving

10%

%GDA

Salt
0.20g

per serving

3%

%GDA
Method
Preheat the oven to 190°C, fan 170°C, gas mark 5. Put 12 muffin cases into a muffin tin.

Cut the apples in half top to bottom and core them, then finely slice them so you have the widest slice possible. Place into a bowl with the lemon juice and toss until coated – this will keep them from discolouring.

Place in the microwave on high for 2 minutes to just soften – they need to be soft enough to roll without breaking but not too hot, heat in 40 second bursts, stirring in between.

Unroll the pastry and place on the board horizontally then brush with the beaten egg. Mix the cinnamon, icing sugar and ground almonds together then scatter evenly over the pastry, then press gently into the pastry so that it's totally covered.

Cut the pastry from top to bottom into 12 even strips.

Taking one strip at a time, lay the apples skin side uppermost along the top of the pastry so that they are half way above the pastry. Roll the pastry up into a pinwheel with the apple skin sticking out. Press gently on the end of the pastry to stick together.

Transfer to the muffin case then repeat with the remaining apples and pastry.

Place in the oven to bake for 20 minutes until golden brown and tender – check after 15 minutes, if they're getting to brown, cover with foil and return to the oven. Serve warm with a dollop of cream.