Preparation Time: 10 minutes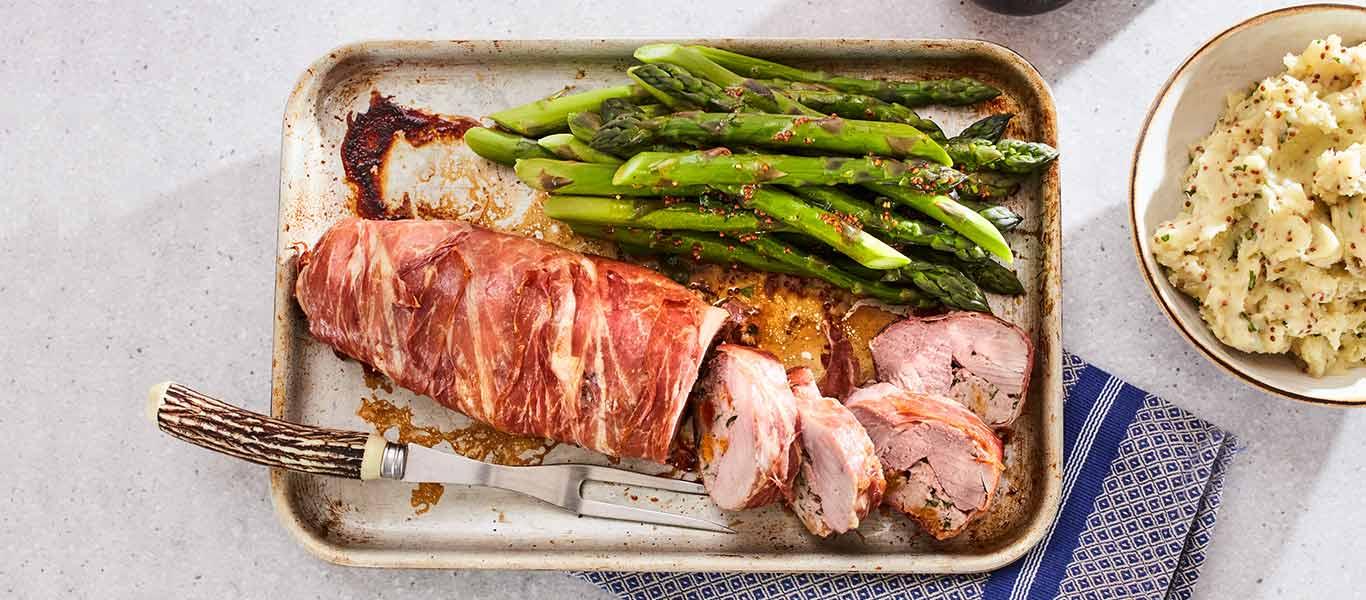 Ingredients
1 x 500g pork tenderloin
3 pork sausages, skin split and removed
2 tbsp dried apricots, roughly chopped
1 tbsp flat leaf parsley
80g Parma ham
450g ready made mashed potato
3 tbsp extra virgin olive oil
Sea salt and freshly ground black pepper
3 tbsp grainy mustard
2 tbsp olive oil
400g asparagus, trimmed
Nutrition
Calories column
Fat column
Saturates column
Sugars column
Salt column

Calories
602

per serving

30%

%GDA

Fat
37g

per serving

53%

%GDA

Saturates
11g

per serving

55%

%GDA

Sugars
9g

per serving

10%

%GDA

Salt
2.70g

per serving

45%

%GDA
Method
Preheat the oven to 210°C, fan 190°C, gas mark 7.

Lay the Parma ham in overlapping vertical slices across a board then lay the pork horizontally on top.

Using the tip of a knife, make an incision along the length of the pork, going about half way through the meat. Open the pork up like a book.

Tip the sausages into a bowl, add the chopped apricots and parsley and mix together. Spoon along the centre of the pork, pressing it into the cut.

Fold the bottom slices of Parma ham over the top of the pork, then roll over so that the pork is totally covered in the Parma ham.

Transfer to a baking sheet and place in the oven to roast for 20 minutes until golden brown and cooked through.

Meanwhile, tip the mash into a heatproof bowl. Add 2 tbsp extra virgin oil and grainy mustard, half the parsley, then season with black pepper and mix well. Cover and microwave for 3-4 minutes until hot through.

Tip the remaining extra virgin olive oil and mustard into a bowl. Add half the remaining parsley and the olive oil and whisk together. Season with salt and black pepper then add the meat juices from the pan and whisk once more.

Bring a pan of salted water to the boil. Add the asparagus and simmer for 3-4 minutes until just tender. Drain and return to the pan.

Serve the pork carved into slices with the mash and asparagus alongside. Spoon the mustard dressing over the top.