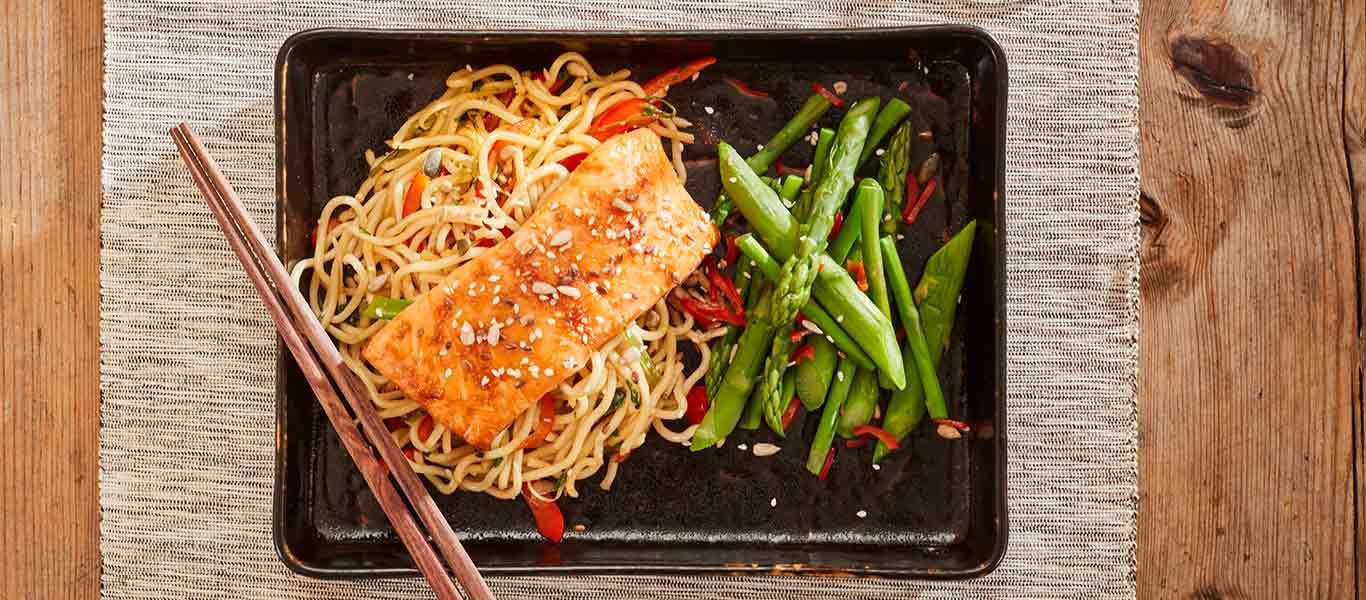 Ingredients
2 x 120g lightly smoked or normal salmon fillets
1 tbsp reduced salt soy sauce
1 tbsp honey
¼ tsp garlic granules
½ lemon, zested and juiced
160g asparagus, trimmed
2 tsp vegetable oil
2 x 150g Amoy straight to wok medium noodles
2 spring onions, finely shredded in 4cm lengths
1 red pepper, seeded and finely sliced
2 tbsp roughly chopped coriander
1 tsp Whitworth mixed seeds
1 chilli, seeded and finely chopped
Method
Preheat the oven to 200°C, fan 180°C, gas mark 6 and line a baking tray with parchment.

Place the salmon onto the baking tray.

Pour the soy, honey, garlic, lemon zest and juice into a small bowl and whisk together. Pour half over the salmon then place in the oven to bake for 12-15 minutes until golden brown and cooked through.

Meanwhile, when the salmon has had about 8-9 minutes, bring a wok of salted water to the boil. Add the asparagus and simmer for 3-4 minutes until just cooked through. Drain and set aside.

Return the wok to the heat, then add the oil. Add the spring onions and red pepper and stir fry for 1 minute until just softened. Add the noodles and stir fry for 2-3 minutes until hot through. Stir in the rest of the soy dressing and stir fry for another minute. Add the coriander then divide between serving plates.

Top the noodles with the salmon and pile the asparagus alongside, then scatter with the seeds and chilli.