Preparation Time: 10 minutes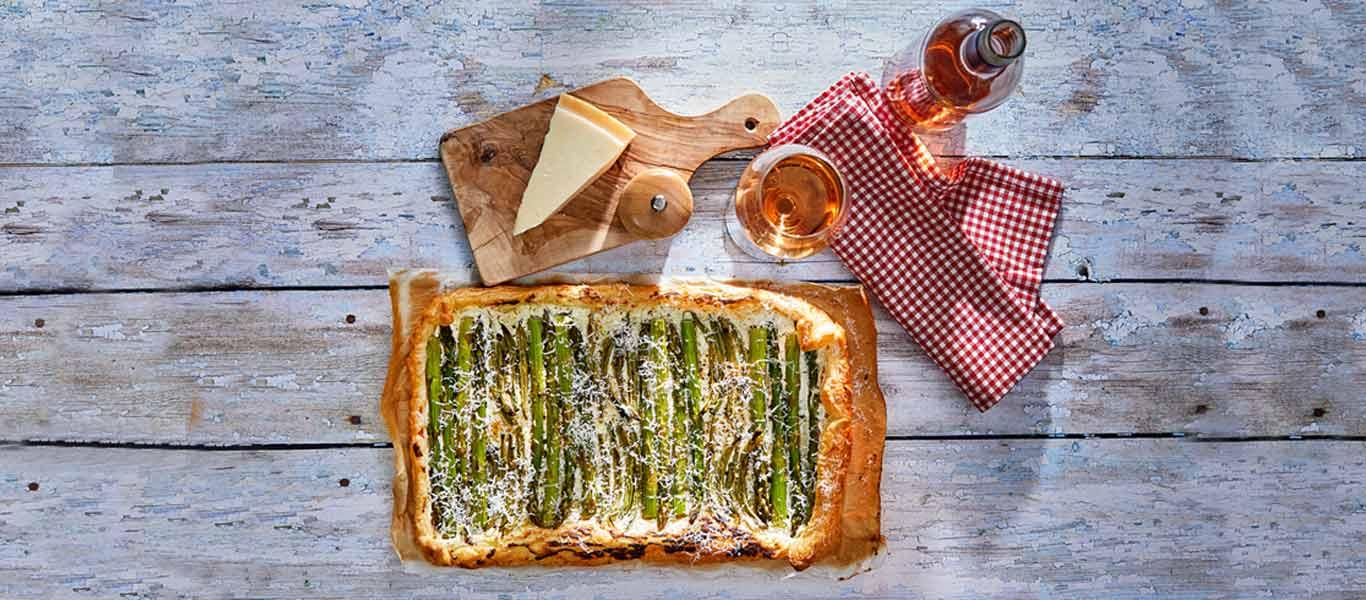 Ingredients
1 x 320g ready rolled puff pastry
150g light garlic and herb soft cheese
16 asparagus spears, trimmed
100g fine green beans, trimmed
1 tbsp extra virgin olive oil
Sea salt and freshly ground black pepper
2 tbsp finely grated parmesan
Nutrition
Calories column
Fat column
Saturates column
Sugars column
Salt column

Calories
470

per serving

24%

%GDA

Fat
34g

per serving

49%

%GDA

Saturates
17g

per serving

85%

%GDA

Sugars
5g

per serving

6%

%GDA

Salt
1.10g

per serving

18%

%GDA
Method
Preheat the oven to 200°C, fan 180°C, gas mark 6 and remove the pastry from the fridge while you wait for the oven to heat.

Roll the pastry out on it's parchment paper, straight onto a flat baking sheet.

Spread the garlic and herb soft cheese over the pastry in an even layer, leaving a 3cm gap around the edges.

Starting at one short side, lay 4 asparagus spears onto the cheese, alternating tip up tip down, then lay a quarter of the beans next to them. Repeat with the remaining asparagus and beans until the cheese is covered – the veg need to be quite tightly packed together.

Drizzle the olive oil over the asparagus and season well.

Using the parchment paper if necessary, fold the pastry up over the edge of the vegetables, so that they are contained but not covered.

Bake in the oven for 30 minutes until the pastry is golden and cooked through, and the vegetables tender.

Remove and grate the parmesan straight over the top. Allow to cool for at least 5 minutes, then cut into rectangles and serve hot, warm or cool.