Preparation Time: 10 minutes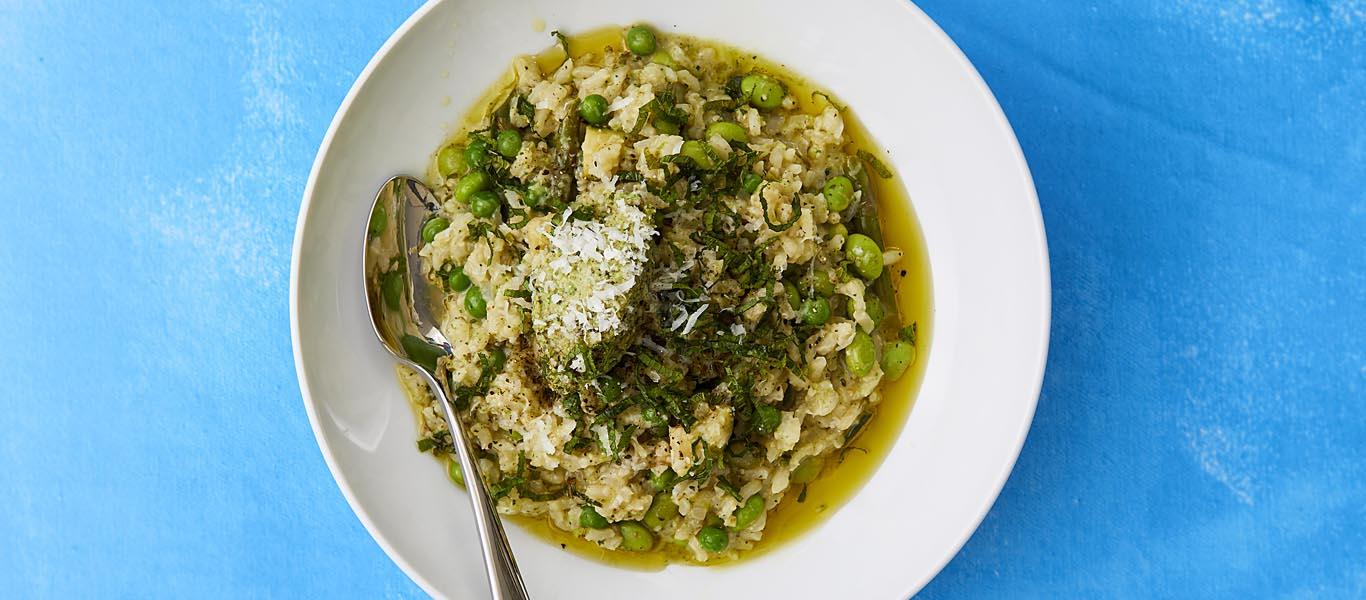 Ingredients
320g frozen peas
2 vegetable stock pots or cubes (if you use gluten free stock, this dish is gluten free)
1 tbsp olive oil
1 onion, finely chopped
1 tbsp picked thyme leaves
300g risotto rice
125ml white wine
100g walnuts, roughly chopped
1 small bunch mint leaves, picked and roughly chopped, with 1 tbsp reserved for garnish 3 garlic cloves, crushed
25g freshly grated vegetarian Italian hard cheese
50ml extra virgin olive oil
160g asparagus, trimmed and cut into 4cm pieces
1 medium courgette, cut into 1cm dice
160g frozen soya or broad beans, outer skin removed
Sea salt and freshly ground black pepper
Nutrition
Calories column
Fat column
Saturates column
Sugars column
Salt column

Calories
791

per serving

40%

%GDA

Fat
37g

per serving

53%

%GDA

Saturates
6g

per serving

28%

%GDA

Sugars
6g

per serving

7%

%GDA

Salt
2.90g

per serving

48%

%GDA
Method
Place half the peas into a food processor and set aside to defrost slightly. Reserve the other half.

Boil the kettle and pour 1.2 litre of boiling water into a heatproof jug, then add the vegetable stock pots or cubes and stir until dissolved.

Heat a large sauté pan until medium hot, add the olive oil and onion and sweat for 2-3 minutes until just softened. Add the risotto rice, stir well and cook for 1 minute until just toasted.

Add the white wine, stir well then cook for 3-4 minutes until evaporated.

Add a third of the stock, bring to a simmer and cook gently for 7-8 minutes, stirring occasionally until the rice is partly cooked.

Add another third of the stock and simmer for another 6-7 minutes, stirring occasionally until the liquid has been absorbed.

Add the courgettes, asparagus, thyme leaves and remaining stock and cook for another 5-7 minutes, stirring occasionally again.

While the rice cooks, make the pesto. Add the walnuts, mint, garlic, 20g of the parmesan and the extra virgin olive oil to the frozen peas in the food processor. Blitz until smooth, then set aside.

By now, the rice should tender and the liquid nearly evaporated. Stir in the frozen beans and remaining peas and cook for another couple of minutes until hot through.

Stir in three quarters of the pesto and season with plenty of black pepper, then serve with the remaining parmesan, pesto and mint scattered over the top.