Preparation Time: 10 minutes
Cooking Time: 1 hour, 20 minutes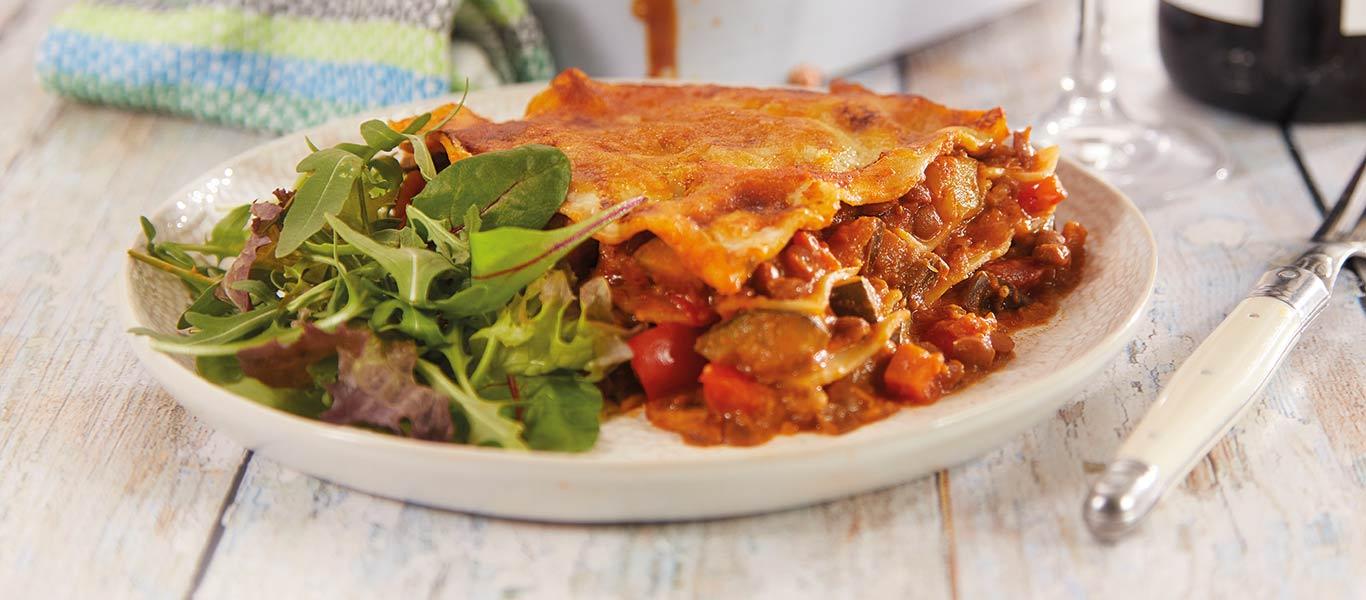 Ingredients
1 tsp olive oil 1 onion, roughly chopped
1 large/2 small aubergines, roughly chopped
2 courgettes, roughly chopped
2 red peppers, seeded and roughly chopped
1 x 660g (or 2 x 350g) Loyd Grossman tomato and chilli/tomato and basil/no added sugar lasagne sauce – whichever takes your fancy!
2 x 400g tinned lentils, drained, rinsed and drained
Sea salt and freshly ground black pepper
9 lasagne sheets
1 x 470g Dolmio creamy sauce for lasagne
250g mature cheddar cheese, grated
Green salad, to serve
Method
Preheat the oven to 200°C, fan 180°C, gas mark 6.

Heat a large sauté pan until hot. Add the olive oil, onions and sweat gently for 5 minutes until softened. Turn the heat up, add the aubergines and fry until golden on all sides.

Add the courgettes and peppers and cook for 2 minutes, then add the tinned lentils and tomato sauce and bring to the boil. Turn the heat down and simmer for 10 minutes until the aubergine and peppers are nearly tender and the mixture has thickened slightly.

Pour the creamy sauce into a saucepan then add 200g of the grated cheese. Stir well then bring to a simmer, stirring constantly until hot through and smooth.

Spoon a third of the lentil mixture into the bottom of a medium ovenproof dish. Top with enough lasagne sheets to cover then spoon over a third of the white sauce. Repeat the layers, lentils, pasta, sauce until all have been used. Top with the last of the cheese and place in the oven to bake for 45-50 minutes until golden brown and bubbling.

Remove and allow to cool for 10 minutes before serving with a green salad.