Preparation Time: 5 minutes
Cooking Time: 15-20 minutes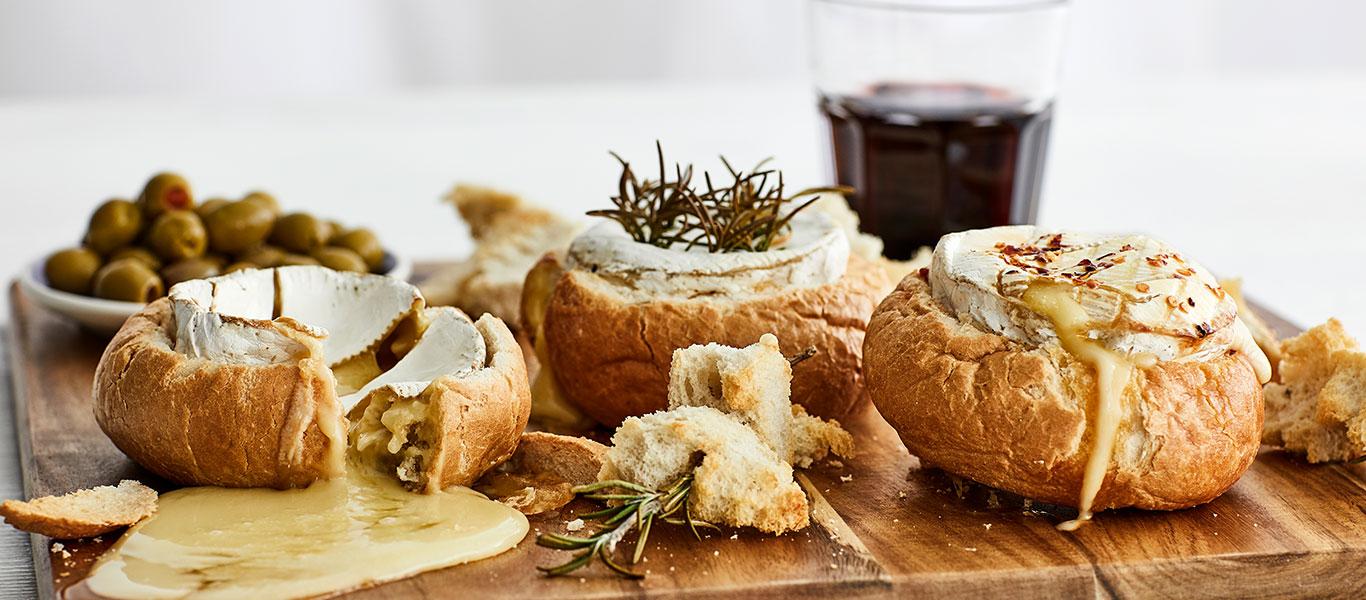 Ingredients
3 rustic bread rolls

Sea salt and freshly ground black pepper

2 tbsp tomato chutney

1 tsp truffle oil (or olive oil)

2 tbsp onion chutney

3 x 140g Camembert

1 tsp extra virgin olive oil

1 pinch dried chilli flakes

2 tsp runny honey

1 sprig rosemary, cut into 6 small sprigs

200g mixed olives
Method
Preheat the oven to 180C/fan 160C/gas mark 4.

Cut the top of the rolls off, horizontally, about 2cm down from the top, then scoop out the bread leaving a shell of crusty bread. Cut the lid into 3 long pieces.

Place the soft pieces of bread and lids onto a baking tray and season with a little salt and black pepper.

Place the roll shells onto the same tray and spoon the tomato chutney into one, truffle oil another and the onion chutney the last then slide a camembert into each bread roll – they should fit snugly.

Score the top of tomato chutney camembert with 3 slashes, the truffle oil one into quarters and in the onion chutney one, make about 6 incisions into it.

Drizzle the olive oil and chilli flakes over the slashed camembert, the honey over the one marked into quarters, and then press the ends of the rosemary sprigs into the tomato chutney camembert incisions.

Place in the oven to bake for 10-12 minutes until the bread is crispy and the cheese gooey.

Serve the baked camembert with the crispy croutons and the olives – tearing pieces of the bread shell off to dip into the cheese.