Preparation Time: 10 minutes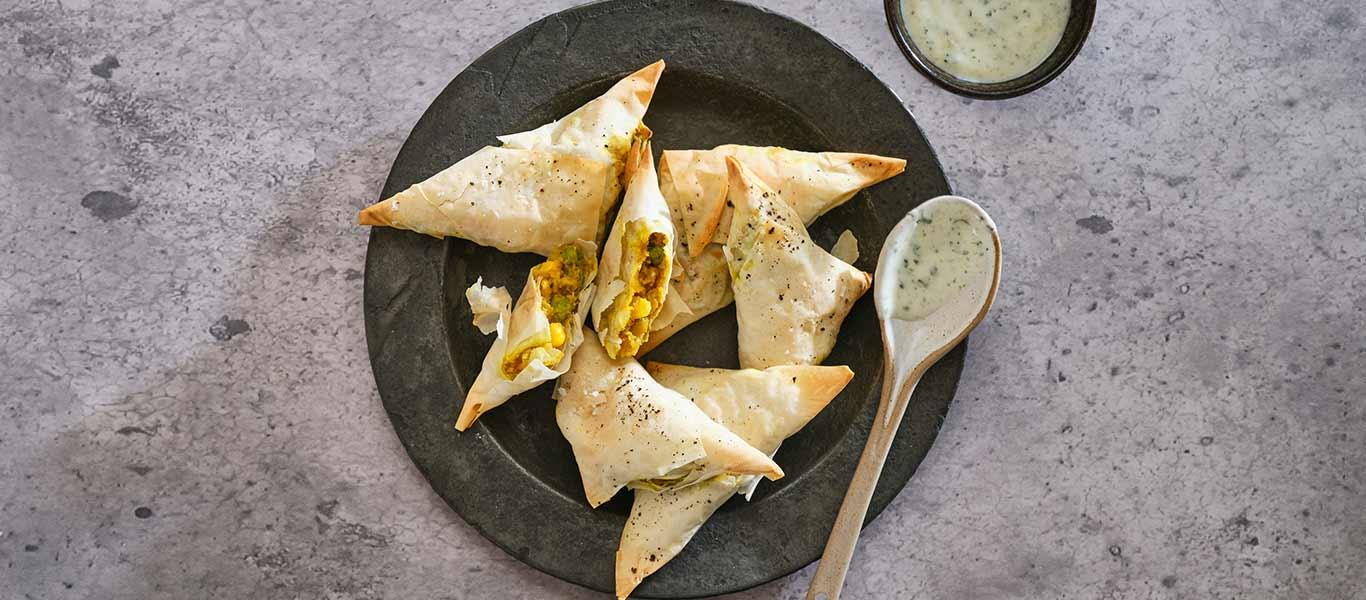 Ingredients
2 tbsp vegetable oil
1 onion, roughly chopped
2 tsp finely grated ginger
2 garlic cloves, finely grated
1 tsp turmeric
1 tbsp medium curry powder
160g mixed frozen vegetables
100g ready- made mashed potato
4 sheets filo pastry, cut into 8cm wide strips
Nutrition
Calories column
Fat column
Saturates column
Sugars column
Salt column

Calories
95

per serving

5%

%GDA

Fat
3g

per serving

4%

%GDA

Saturates
1g

per serving

5%

%GDA

Sugars
4g

per serving

4%

%GDA

Salt
0.50g

per serving

8%

%GDA
Method
Preheat the oven to 200°C, fan 180°, gas mark 6.

Heat a large frying pan or wok until hot. Add 2 tsp vegetable oil and the onion and sauté for 5 minutes until softened.

Add the ginger and garlic and stir fry for a minute, then stir in the turmeric and curry powder and cook for another minute.

Add the frozen vegetables and cook, stirring occasionally, until just defrosted then remove from the heat.

Tip the mashed potato into a bowl and mix until smooth, then stir in the curried vegetables.

Lay the filo pastry strips onto a board. Place a large spoonful of filling on the bottom of each strip. Fold the filo diagonally over the filling, then continue folding over until the filling is parcelled inside a filo triangle.

Transfer to a baking sheet and brush with the remaining vegetable oil.

Bake for 15 minutes until hot through and crispy.