Preparation Time: 10 minutes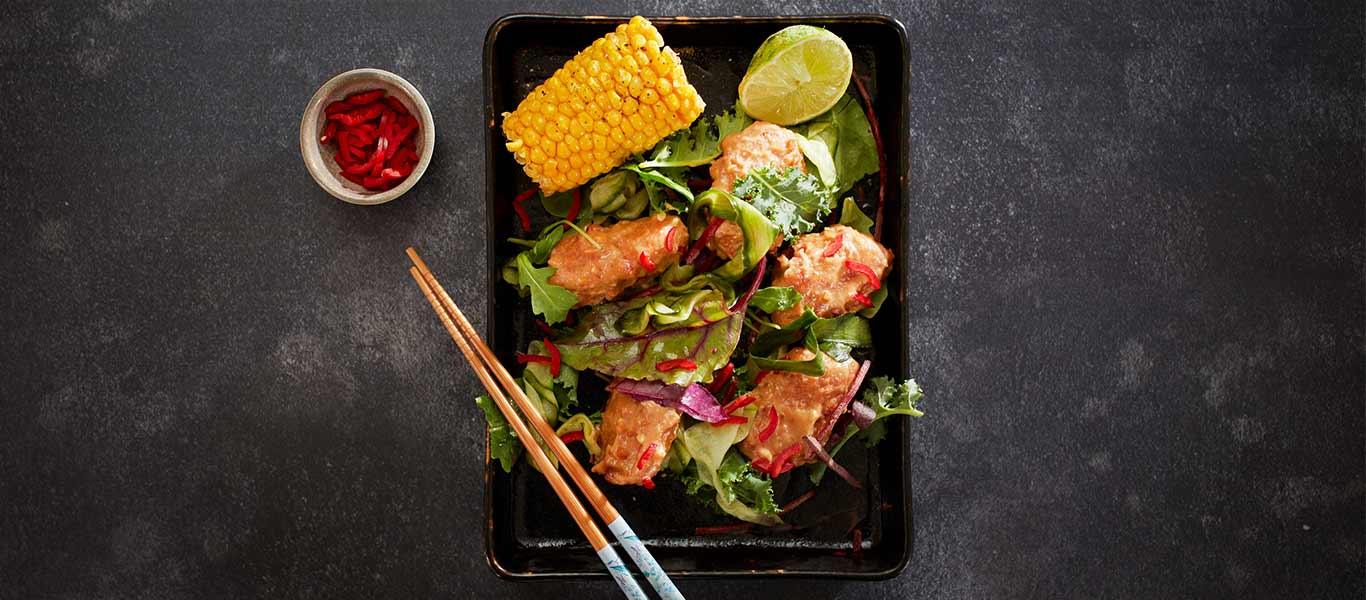 Ingredients
4 pieces corn on the cob
2 x 220g Youngs frozen scampi
100ml white wine vinegar
100g caster sugar
1 cucumber, peeled lengthways into strips
80g peanut butter
100g Thai sweet chilli sauce
140ml reduced fat coconut milk
2 limes 30g rocket
30g mixed salad leaves
1 red chilli, seeded and sliced
Nutrition
Calories column
Fat column
Saturates column
Sugars column
Salt column

Calories
644

per serving

32%

%GDA

Fat
27g

per serving

39%

%GDA

Saturates
6g

per serving

30%

%GDA

Sugars
44g

per serving

49%

%GDA

Salt
2.10g

per serving

35%

%GDA
Method
Preheat the oven to 210C, fan 190C, gas mark 7.

Place the corn on the cob into a saucepan, cover with water then place over a medium heat and bring to the boil. Turn the heat down and simmer for 15-20 minutes until tender and cooked through. Drain and return to the pan.

Tip the scampi onto a baking tray and place in the oven for 15 minutes until crispy and cooked through.

Meanwhile, pickle the cucumber. Pour the vinegar and sugar into a saucepan and place over a medium heat. Bring to the boil and heat until the sugar has dissolved.

Peel the cucumber into a heatproof bowl, then when the sugar has dissolved, pour the liquid over the cucumber. Stir to combine and set aside to pickle.

Spoon the coconut milk, sweet chilli sauce and peanut butter into a wide bottomed pan or wok. Set over a low heat and stirring occasionally, heat until melted and smooth.

Remove from the heat and stir in the zest and juice of one lime. Tip the scampi into the warm satay sauce and toss to coat.

Divide ¾ of the salad leaves and pickled cucumber between the serving plates. Add the scampi and then add the remaining leaves and cucumber.

Place the sweetcorn alongside, finish with a squeeze of lime and the chilli.