Preparation Time: 20 minutes
Cooking Time: 15 minutes, plus 1 hour cooling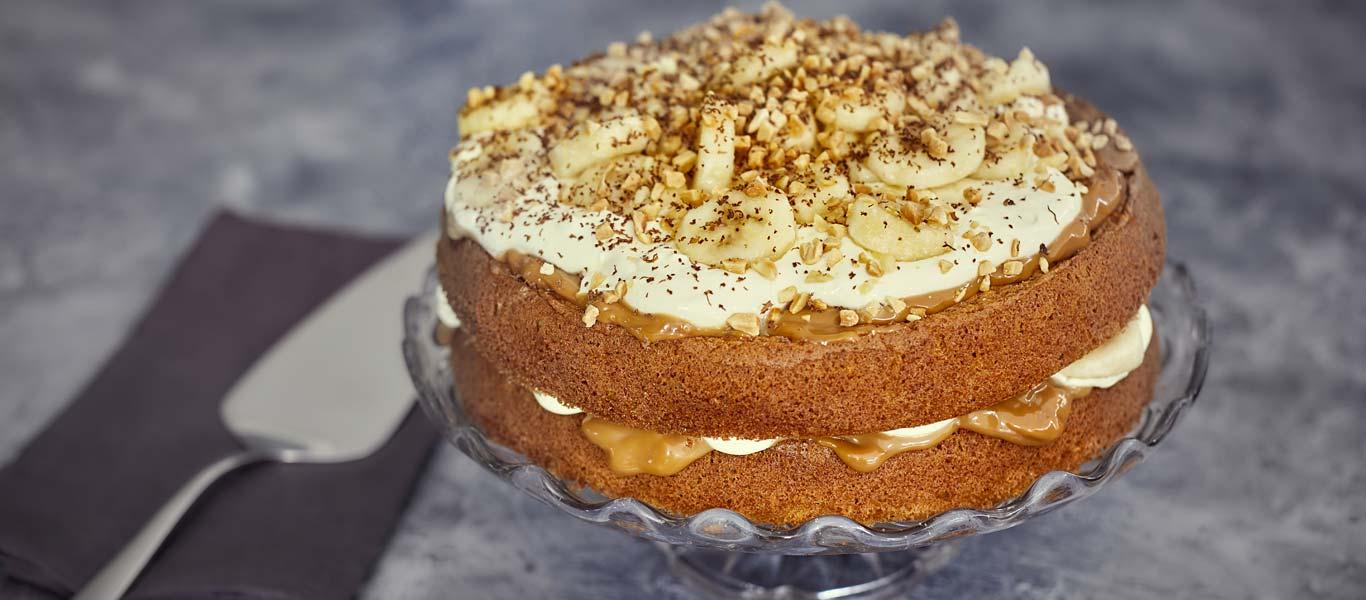 Ingredients
50g butter
2 tsp vanilla extract
4 eggs
100g soft dark brown sugar
100g self-raising flour
250ml double cream
200g caramel (from a tin)
3 bananas, peeled and cut into thick slices
2 tbsp chopped mixed nuts
20g 70% dark chocolate
Nutrition
Calories column
Fat column
Saturates column
Sugars column
Salt column

Calories
312

per serving

16%

%GDA

Fat
19g

per serving

27%

%GDA

Saturates
11g

per serving

55%

%GDA

Sugars
23g

per serving

26%

%GDA

Salt
0.20g

per serving

3%

%GDA
Method
Preheat the oven to 180°C, fan 160°C, gas mark 4 and grease and line a 2 x 20cm loose bottomed cake tins.

Place the butter in a heatproof bowl and microwave on high for 1 minute until melted (or place the butter in a small saucepan and heat until melted) then stir in the vanilla extract and allow to cool slightly.

Meanwhile, place the eggs and sugar into a large bowl and whisk for at least 5 minutes until really light, thick and fluffy, almost thick enough to hold it's shape when you waggle the whisk around.

Sift the flour into the bowl and whisk very gently until all the flour is incorporated into the egg mixture.

Pour the cooled melted butter and vanilla over the mixture and whisk gently until the batter is thick and smooth.

Pour into the lined tins and bake for 12 minutes until golden brown and risen – the sponges should be just firm to the touch.

Remove and allow to cool totally before turning out.

Meanwhile, pour the cream into a bowl and whisk until quite firm peaks form.

Place one sponge onto a serving plate and top with half the caramel, bananas and cream, then layer the other sponge over the top. Repeat with the remaining caramel, cream and bananas then scatter the nuts and grate the chocolate over the top.

Serve straightaway or keep in the fridge until needed, but allow to warm to room temperature for 30 minutes before serving.