Preparation Time: 25 minutes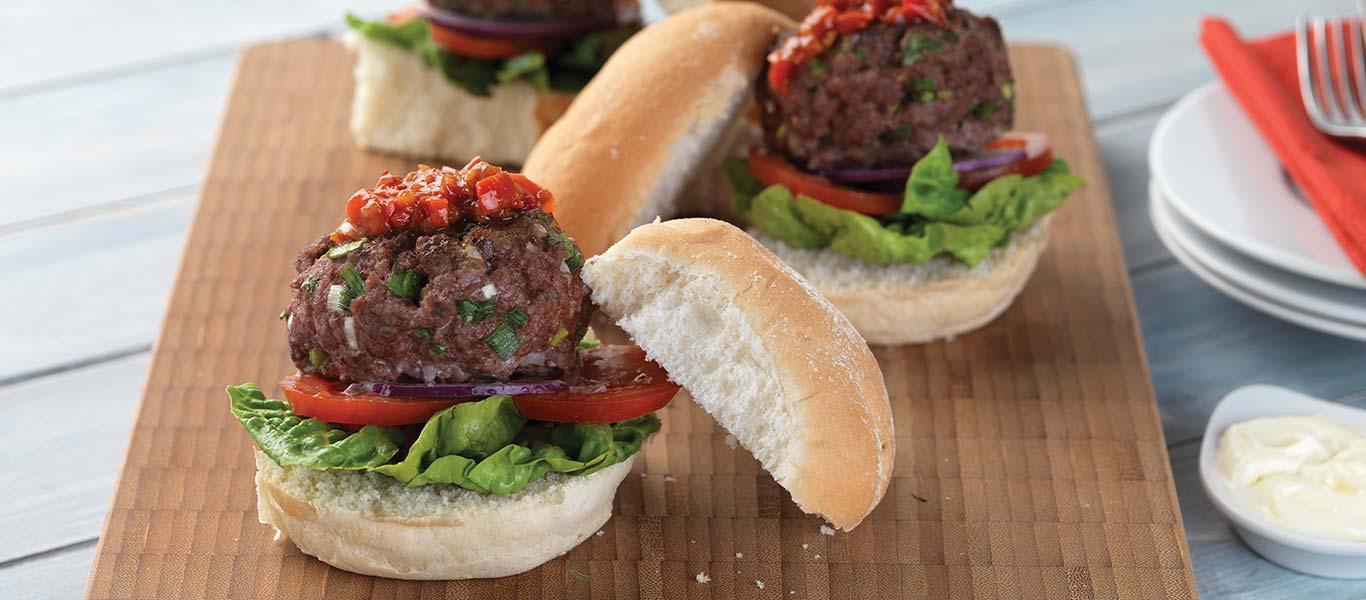 Ingredients
4 spring onions, finely chopped
½ tsp chilli flakes
750g beef mince
1 tbsp freshly chopped herbs, such as parsley, thyme and chives
A little vegetable oil
6 burger buns
6 lettuce leaves
2 tomatoes, finely sliced
¼ red onion, finely sliced
Salt and freshly ground black pepper
For the burgers
1 tbsp olive oil
1 onion, finely chopped
1 garlic clove, finely chopped
1 red pepper, finely chopped
2 tsp red wine vinegar
2 tbsp tomato ketchup
Method
First make the red pepper relish. Heat the oil in a pan and add the onions. Cover and cook over a low heat for 10-15 minutes until softened. Stir in the garlic and pepper and continue to cook for another 10-15 minutes until the pepper is soft. Stir in the vinegar, turn up the heat to bubble, then stir in the tomato ketchup and season well. Set aside to cool.

Put the spring onions in a bowl with the chilli flakes, mince and herbs. Season well and mix everything together until well combined.

Divide the mixture roughly into six portions. Shape each portion with clean hands to make a burger.

Heat the vegetable oil in a pan and fry the burgers for 4-5 minutes on each side until cooked through. Split the buns, put a lettuce leaf and a couple of slices of tomato on top of each base, then top with a burger. Spoon some of the relish on top and put the lid on.