Preparation Time: 15 minutes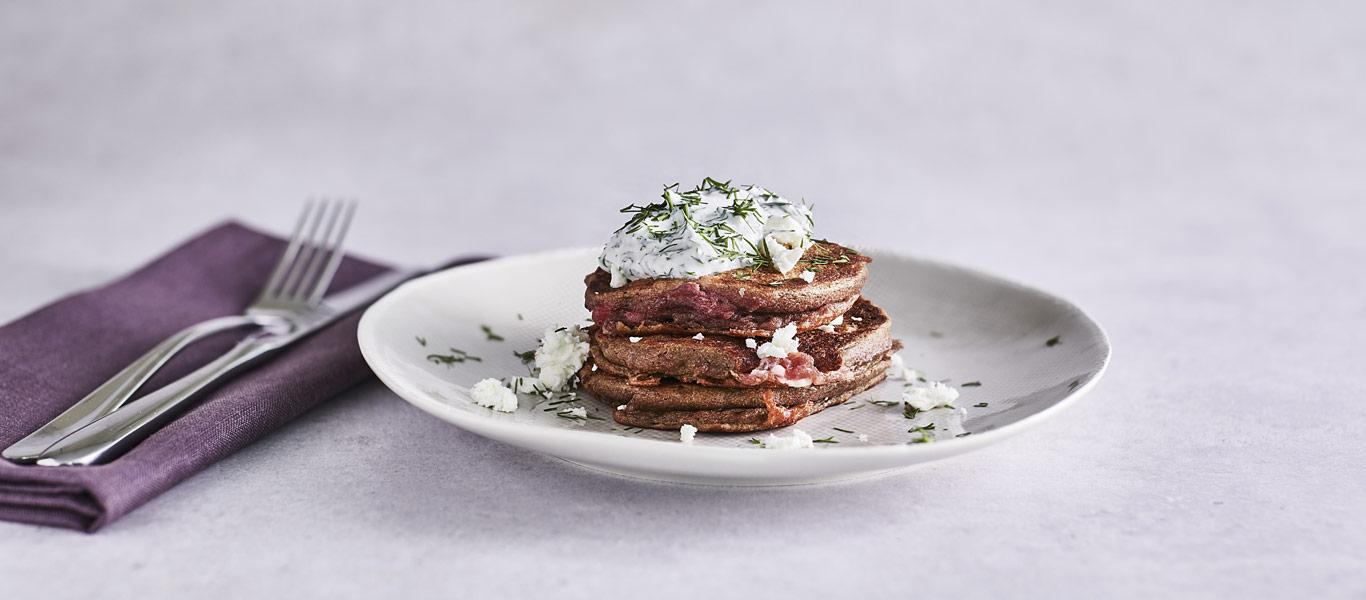 Ingredients
200g cooked beetroot, roughly chopped
100ml semi skimmed milk
125g self-raising flour
½ tsp bicarbonate of soda
Sea salt and freshly ground black pepper
1 egg
30g melted butter
1 tbsp vegetable oil
150g feta cheese, crumbled
100ml sour cream
2 tbsp finely chopped dill
Nutrition
Calories column
Fat column
Saturates column
Sugars column
Salt column

Calories
398

per serving

19%

%GDA

Fat
24g

per serving

35%

%GDA

Saturates
13g

per serving

65%

%GDA

Sugars
7g

per serving

8%

%GDA

Salt
2.20g

per serving

37%

%GDA
Method
Place the beetroot into a blender or processor with the milk and blitz to a puree until smooth.

Tip the flour and bicarbonate of soda into a large bowl. Season with salt and black pepper then make a well in the centre.

Crack the egg into the well and pour in the beetroot milk. Whisk together, starting in the centre and working out until you have a smooth batter.

Stir in the melted butter and the pureed beetroot and whisk until smooth. Fold in two thirds of the crumbled feta cheese.

Heat a medium frying pan until hot. Add a little oil, swirl around then tip out into a heatproof bowl. Add large spoonfuls of batter to the pan, leaving a little space between them.

Cook for 1-2 minutes until just set, then flip over. Cook on the other side for 30 seconds until just set.

Remove and place onto a plate to keep warm. Repeat with the remaining oil and batter until you have a stack of 12 pancakes.

Fold ¾ of the chopped dill into the sour cream.

Divide the pancakes between 4 plates, piling them up in a stack, then top with the remaining feta cheese, a dollop of dill cream and the last of the chopped dill.

Serve straightaway.