Preparation Time: 10 minutes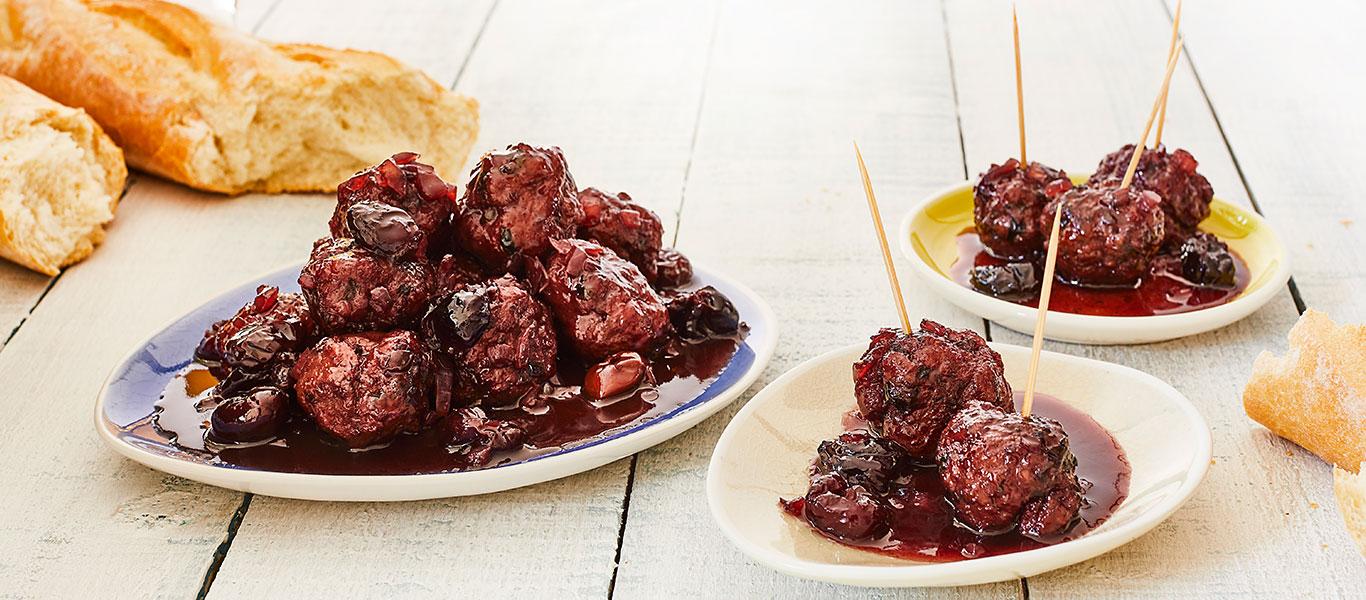 Ingredients
6 pork sausages

2 tbsp finely chopped flat leaf parsley

50g butter

½ onion, finely chopped

75g caster sugar

100ml red wine vinegar

150ml red wine

150g pitted cherries, frozen and defrosted, tinned or fresh

200ml chicken stock

1 crusty loaf, cut into pieces
Nutrition
Calories column
Fat column
Saturates column
Sugars column
Salt column

Calories
753

per serving

38%

%GDA

Fat
34g

per serving

49%

%GDA

Saturates
15g

per serving

75%

%GDA

Sugars
29g

per serving

32%

%GDA

Salt
2.80g

per serving

47%

%GDA
Method
Run a knife down the length of the sausages and remove the skin. Place the meat into a bowl and add the flat leaf parsley. Mix well then divide the mixture into 16 and roll each piece into a small ball.

Heat a frying pan until medium hot, add the butter and meatballs and fry gently on each side until golden brown all over.

Push the meatballs to one side, then add the onion and cook for 2-3 minutes until just softening, then add the caster sugar and cook for 2 minutes until liquid, before mixing the onions and meatballs together.

Turn the heat up and add the vinegar and cook for another 2 minutes then add the red wine and chicken stock.

Add the cherries and bring to the boil. Keep on a medium heat, and simmer for about 10-12 minutes turning the meatballs over occasionally, until the meatballs are cooked through but juicy still and the sauce reduced by about half and thickened slightly.

Serve the meatballs and cherry sauce spooned alongside with a hunk of crusty bread.