Preparation Time: 10 minutes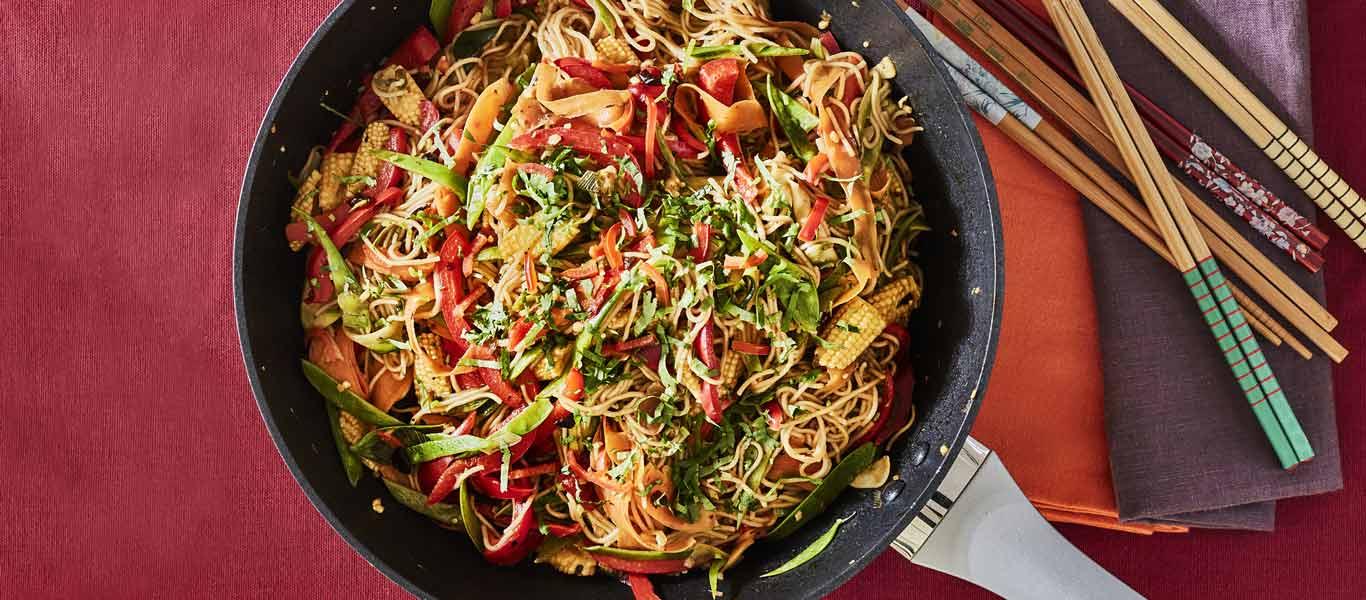 Ingredients
225g fine egg noodles
1 tsp vegetable oil
4 spring onions, finely sliced
2 garlic cloves, finely sliced
5cm piece ginger, peeled and finely chopped
2 chillis, seeded and finely sliced
2 red peppers, seeded and finely sliced
160g baby corn, halved
160g mangetout, thinly sliced
2 carrots, peeled and peeled into slices
1 courgette, peeled into slices
425g stir fry black bean and red pepper cooking sauce
1 tbsp roughly chopped coriander
Nutrition
Calories column
Fat column
Saturates column
Sugars column
Salt column

Calories
348

per serving

17%

%GDA

Fat
3g

per serving

4%

%GDA

Saturates
1g

per serving

3%

%GDA

Sugars
17g

per serving

19%

%GDA

Salt
1.90g

per serving

32%

%GDA
Method
Make sure that you prepare all the vegetables before you start cooking.

Bring a pan of water to the boil. Add the noodles and simmer for 3 minutes then drain and return to the pan. Set aside while you cook the stir fry.

Heat a wok or large frying pan until hot. Add the vegetable oil and spring onions, garlic, ginger and ¾ of the chilli and stir fry for 2 minutes.

Add the peppers and baby corn and stir fry for 1 minute then add 100ml water. Stir well then cover with a lid and steam cook for 2 minutes.

Stir in the sauce, mangetout, carrots and courgette, cover and cook for another 1-2 minutes until just wilted down.

Stir in the noodles and cook for 1 minute until hot through.

Divide between serving plates and scatter with the coriander and remaining chilli.