Preparation Time: 10 minutes
Cooking Time: 20-25 minutes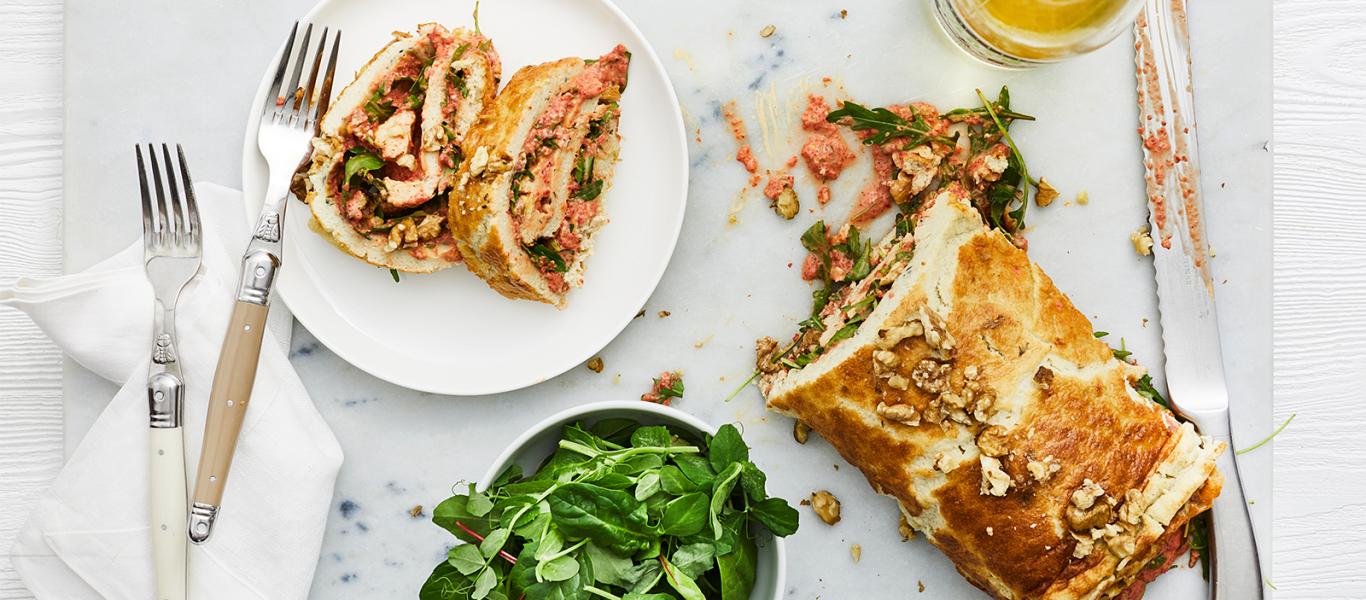 Ingredients
50g butter, plus extra for greasing

50g plain flour

300ml semi skimmed milk

180g St Agur blue cheese, roughly chopped

sea salt and freshly ground black pepper

4 eggs, separated

215g roasted red peppers, drained and roughly chopped

125g Philadelphia Lightest low fat cream cheese

40g rocket

60g walnuts, roughly chopped

green salad, to serve
Nutrition
Calories column
Fat column
Saturates column
Sugars column
Salt column

Calories
292

per serving

15%

%GDA

Fat
23g

per serving

33%

%GDA

Saturates
11g

per serving

52%

%GDA

Sugars
3g

per serving

3%

%GDA

Salt
1.60g

per serving

27%

%GDA
Method
Preheat the oven to 190C/fan 170C/gas 5. Grease a 23cm x 33cm Swiss roll tin with a little butter then line the base and sides with parchment paper.

Heat the butter in a medium saucepan until melted then add the flour and cook for 2-3 minutes over a medium heat until light golden brown and thickened. Whisk in the milk, stirring all the time until smooth.

Bring to a simmer and cook for another 2 minutes until thickened then stir in the St Agur blue cheese and heat through, whisking all the time, until smooth. Season with salt and freshly ground black pepper.

Remove from the heat and separate the eggs – whisking the egg yolks into the saucepan of cheese sauce, and the egg whites into a large clean bowl.

Whisk the egg whites until firm peaks form, then beat half into the cheese sauce. Fold the remaining half in until totally combined.

Spoon into the prepared baking tray and bake in the oven for 15 minutes until risen and golden.

While the roulade bakes, prepare the filling. Place the roasted red peppers into a processor and blitz until. Tip the Philadelphia cream cheese into a bowl and beat until smooth then beat in the pureed pepper. Season with salt and freshly ground black pepper and set aside.

When the roulade is ready, remove from the oven and place upside down onto a large sheet of parchment paper. Carefully lift the tin off and then peel the parchment paper from the base of the roulade and discard. Leave until cool.

Spread the red pepper mixture over the roulade, leaving a 2cm space at one short end, uncovered. 

Scatter the rocket and walnuts over the top, then, starting at the uncovered short end, roll the roulade up, using the paper underneath to help. You want to roll the first part quite tightly to get a nice roll.

Transfer to a long plate or board and serve with a green salad.