Desserts Blueberry & Blackberry Millefeuille
---
Preparation Time: 10-15 minutes
Cooking Time: 10-15 minutes plus 15mins cooling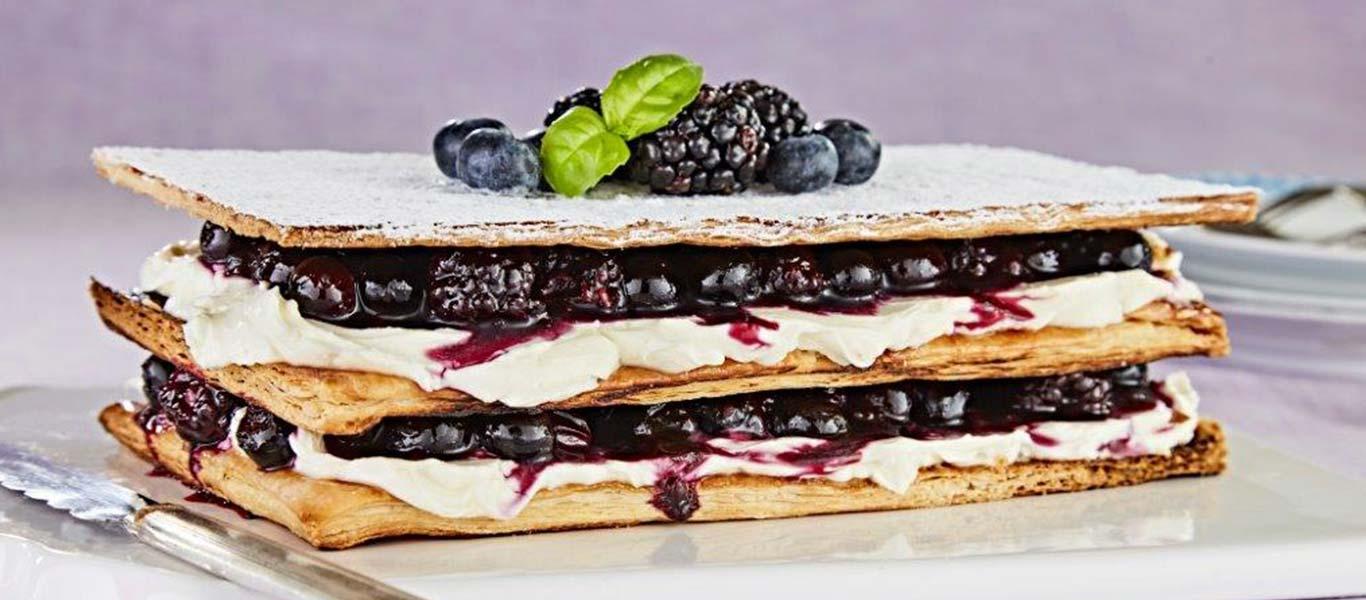 Ingredients
320g ready rolled puff pastry, at room temperature
6 heaped tbsp icing sugar, plus extra for serving
300g soft cream cheese
1 lemon, zested
200g blueberries
200g blackberries, halved
50g caster sugar
Equipment
Baking sheets x 2
Small sieve
Small saucepan
Medium mixing bowl
Rectangular serving plate - medium sized
Method
Preheat the oven to 210°C, 190°C Fan, Gas Mark 7.

Unroll the pastry and place widthways in front of you then cut vertically into 3 equal rectangles.

Place on the parchment paper onto a flat baking sheet.

Dust with 2 tablespoons of the icing sugar then cover with a sheet of parchment paper. Bake in the oven for 10-15 minutes until golden brown and cooked through.

Remove and allow to cool while you make the filling.

Heat the blueberries and blackberries with half the lemon zest and the caster sugar in a small saucepan for 2-3 minutes until they start to soften. Remove and allow to cool.

Whisk the cream cheese with the remaining icing sugar and lemon zest, until smooth.

Place one piece of crispy pastry onto a serving platter. Spoon half the lemon cheese onto this then top with half the blueberry mixture.

Top with the second piece of pastry then repeat with the cream and blueberry mixture over the top then finish with the last piece of pastry.

Dust with a little more icing sugar then serve.