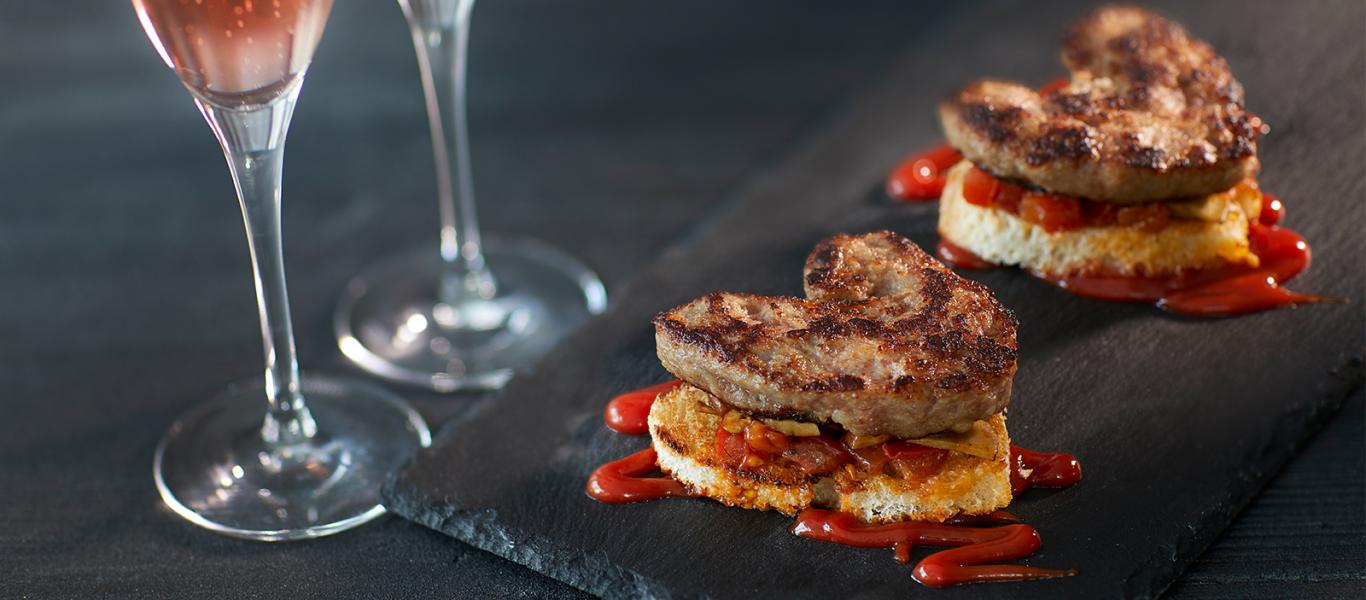 Ingredients
2 slices sour dough bread

2 Pork Sausages

1 tsp vegetable oil

40g mushrooms, thinly sliced

40g tomatoes, roughly chopped

sea salt

freshly ground black pepper

tomato ketchup, to serve

brown sauce, to serve
Method
Stamp out 2 hearts from the sour dough bread with a large heart shaped cutter and set aside.

Run a knife down the side of the sausages to split the skin and lift the meat out. Set the heart shaped cutter set on a piece of cling film, then press the sausage into it, pressing down to form an even layer. Lift the cutter off and you will have a heart shaped sausage underneath. Repeat with the second sausage.

Heat a frying pan until hot, add the sausage hearts and fry over a medium to low heat until golden brown and cooked through –about 3-4 minutes on each side.

Remove and place on a plate and cover with foil to keep warm.

Add the oil to the pan and the mushrooms and stir fry for 2-3 minutes until golden brown, then add the tomatoes and cook for another minute. Season with salt and plenty of black pepper.

Meanwhile, toast the sourdough hearts until light golden brown.

To serve, drizzle the plate with tomato ketchup or brown sauce, then lay the heart toast on top. Spoon the mushrooms and tomatoes over it, then finish with the heart sausage on top.