Salads Butternut Squash and Ciabatta Salad
---
Serves : 4 as a main course, or 6-8 as a side salad
Preparation Time: 10 minutes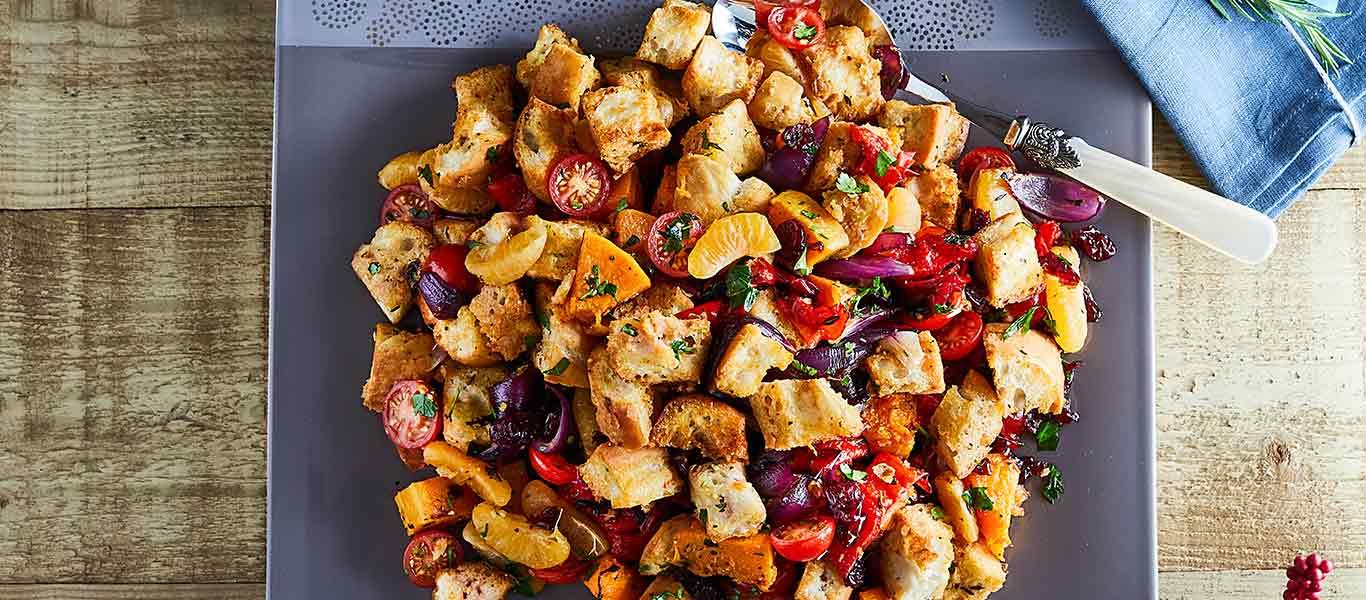 Ingredients
350g butternut squash, peeled and cut into small chunks

2 red onions, cut into small wedges              

2 sweet pointed peppers, seeded and cut into chunks

3 tbsp olive oil

sea salt

freshly ground black pepper

2 ciabatta rolls

, cut into 2cm cubes

6 sprigs thyme, leaves picked

200g Piccolo tomatoes, halved

6 satsuma, 4 peeled and cut into segments, 2 juiced

75g dried cranberries

1 small bunch flat leaf parsley, roughly chopped

2 tbsp red wine vinegar
Method
Preheat the oven to 220C/fan 200C/gas 7.

Put the squash, onions and peppers onto a large baking tray, drizzle over 1 tablespoon of the oil, then season with salt and black pepper. Toss them all together then place in the oven for 25 minutes until tender and just charring around the edges.

Meanwhile, put the ciabatta onto a separate baking tray, drizzle with 1 tablespoon of olive oil and the thyme leaves, salt and black pepper. Toss together then bake in the oven for 10 minutes until golden brown and crispy.

While everything roasts, tip the Piccolo tomatoes, segmented satsumas, dried cranberries and parsley into a large bowl.

Add the roasted vegetables and ciabatta croutons, then pour on the satsuma juice, vinegar and last of the olive oil and toss together until really well combined.

Serve straight away, or even better, leave for 30 minutes until room temperature, and the bread has absorbed all the juices.