Preparation Time: 10 minutes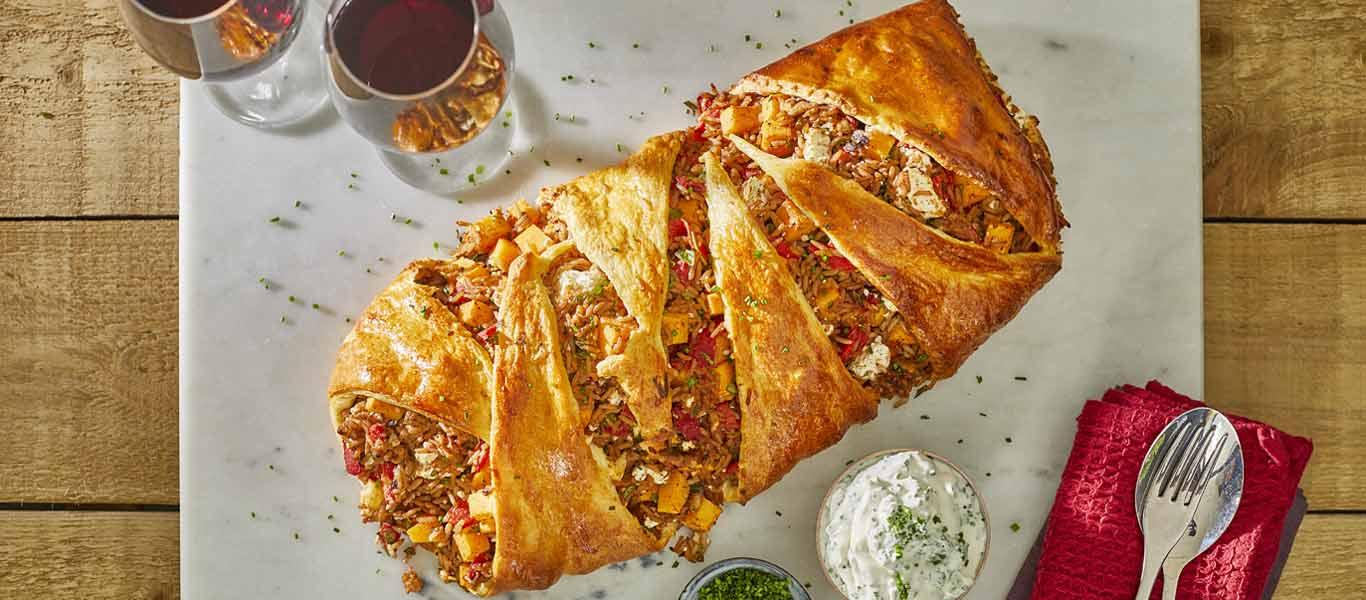 Ingredients
320g butternut squash, peeled and roughly chopped (about 1cm cubes)
2 x 250g microwave mushroom rice
320g roasted red peppers, drained and thickly sliced
200g feta cheese, roughly chopped
60g walnuts, roughly chopped
1 tsp ground cinnamon
2 tbsp roughly chopped flat leaf parsley
1 lemon, zested and juiced
Freshly ground black pepper
1 x 6 raw tinned croissants (ready to cook)
1 egg, beaten
200g half fat crème fraiche
2 tbsp finely chopped chives
1 bag mixed salad leaves
Nutrition
Calories column
Fat column
Saturates column
Sugars column
Salt column

Calories
600

per serving

30%

%GDA

Fat
34g

per serving

49%

%GDA

Saturates
16g

per serving

80%

%GDA

Sugars
10g

per serving

11%

%GDA

Salt
2.50g

per serving

42%

%GDA
Method
Preheat the oven to 180°C, fan 160°C, gas mark 4 and line a large baking tray.

Tip the butternut squash, mushroom rice and red peppers into a large bowl and mix together really well.

Add the feta cheese, walnuts, cinnamon, parsley, lemon zest and juice and plenty of black pepper and mix once more until evenly distributed.

Roll out the croissant dough and separate into triangles. Place the tray horizontally in front of you. Starting at the left hand side of the tray, lay the triangles onto the tray, with the point facing up, then the next one with the point down and repeat – you want to create a solid base through the centre with the points alternating either side.

Spoon the filling down the centre of the dough then gently lift each point up and over the filling so that it nearly covers it.

Brush the croissant dough with the beaten egg. Place in the oven to bake for 45-50 minutes until the croissant are golden brown, the butternut squash tender and the filling hot through.

Meanwhile, stir the chives into the crème fraiche and season with plenty of black pepper.

Serve the strudel with the chive crème fraiche and salad.