Preparation Time: 5 minutes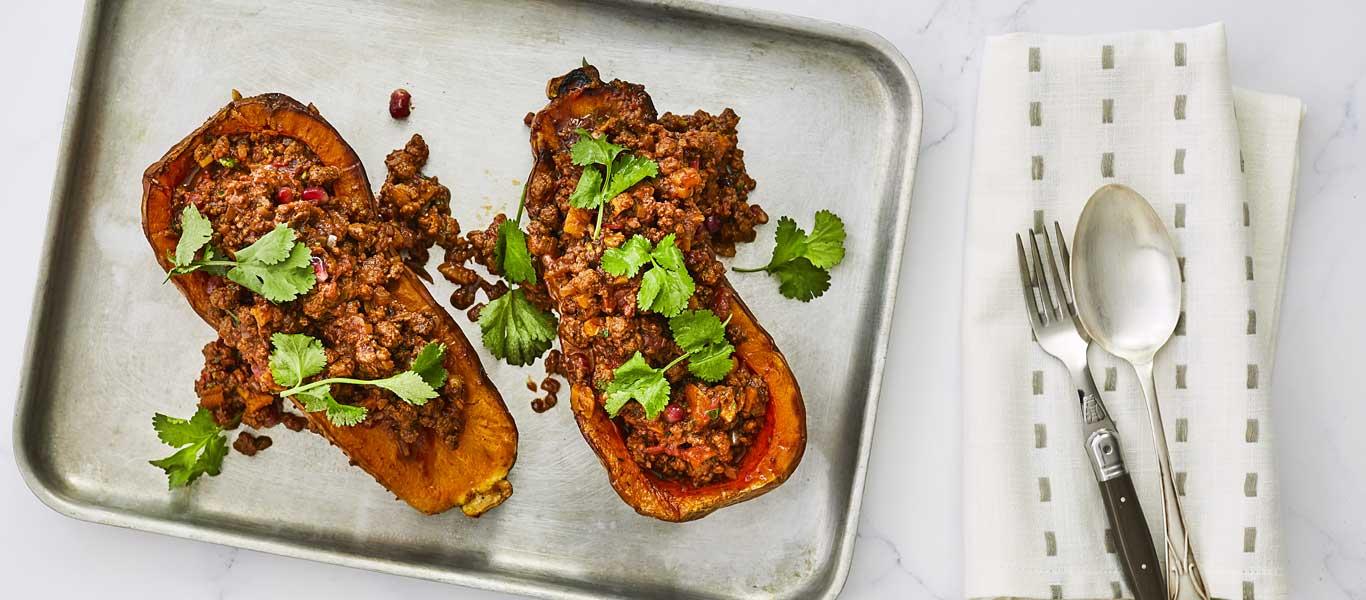 Ingredients
1 tbsp vegetable oil
600g butternut squash, cut in half lengthways
freshly ground black pepper
1 red onion, roughly chopped
2 garlic cloves, finely grated or crushed
5cm ginger, peeled and finely chopped
1 red chilli, seeded and finely chopped
350g Quorn mince
1 tbsp Ras El Hanout or 1 tsp ground coriander, 1 tsp ground cumin, ½ tsp ground cinnamon, ½ tsp smoked paprika
1 x 400g tinned chopped tomatoes
60g chopped apricots
1 tbsp maple syrup/agave nectar/brown rice syrup/date syrup
60g pomegranate seeds (optional)
1 small bunch coriander, roughly chopped
Nutrition
Calories column
Fat column
Saturates column
Sugars column
Salt column

Calories
263

per serving

13%

%GDA

Fat
5g

per serving

7%

%GDA

Saturates
1g

per serving

3%

%GDA

Sugars
23g

per serving

26%

%GDA

Salt
0.30g

per serving

5%

%GDA
Method
Preheat the oven to 220°C, fan 200°C, gas mark 7.

Place the butternut squash skin side down onto a baking tray and drizzle with 2 tsp vegetable oil. Season with black pepper then place in the oven to roast for 30 minutes until tender, while you prepare the Quorn.

Heat a large sauté pan until medium hot. Add 1 tsp vegetable oil and the onion and cook for 3 minutes.

Add the garlic, ginger and chilli and fry for 1 minute then add the Quorn mince and fry for another minute.

Stir in the spices and cook for 1 minute. Add the tinned tomatoes then refill the tin with water (400ml) and add with the chopped apricots, stir well and bring to the boil. Turn the heat down and simmer for 10 minutes until just thickened and the mince hot through.

Stir in the maple syrup, pomegranate seeds (if using) and ¾ of the coriander and season to taste.

Set the butternut squash in the centre of your serving plates and spoon the mince over. Finish with the last of the coriander.