Cauliflower Risotto with Asparagus, Peas and Mint
---
Preparation Time: 10 minutes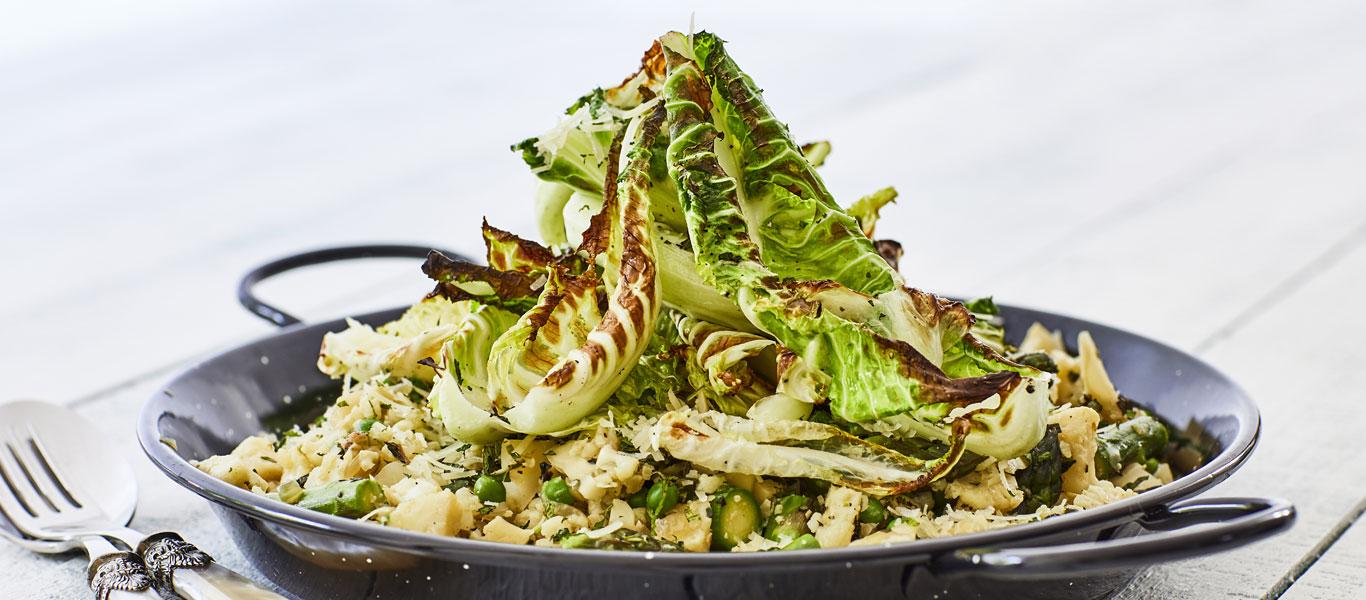 Ingredients
1 medium head of cauliflower

2 tsp vegetable oil

1 onion, roughly chopped

2 garlic cloves, finely chopped or grated

2 green chillies, seeded and finely chopped

1 tbsp fresh thyme leaves, finely chopped

350ml gluten free vegetable stock (or 1 stock pot/cube and 350ml water)

250g asparagus, trimmed and cut into 3cm pieces

160g frozen petit pois

4 tbsp mint leaves, roughly chopped

80g finely grated vegetarian hard cheese

sea salt and freshly ground black pepper
Nutrition
Calories column
Fat column
Saturates column
Sugars column
Salt column

Calories
242g

per serving

12%

%GDA

Fat
10.00g

per serving

14%

%GDA

Saturates
4.50g

per serving

23%

%GDA

Sugars
10.50g

per serving

12%

%GDA

Salt
1.60g

per serving

27%

%GDA
Method
Preheat the grill to high.

Remove the outer leaves from the cauliflower and discard, then remove and reserve the inner leaves set aside.

Finely chop the whole of the cauliflower into 5mm pieces – some will be bigger, some smaller, don't worry too much.

Heat a sauté pan until medium hot, add 1 teaspoon of the oil and the onion and sweat for 3-4 minutes until just softening.

Add the garlic, chilli, thyme leaves and the chopped cauliflower and stir through the onion, then pour in the vegetable stock. Bring to the boil, then turn down to a simmer, and cook for 5-6 minutes, stirring occasionally, until the cauliflower is just tender.

Add the asparagus and cook for 2-3 minutes then stir in the peas and cook for 2 minutes until hot through. By now, the vegetables should all be tender.

Meanwhile, toss the cauliflower leaves with the remaining oil and place on a tray under the grill for 2-3 minutes until just browning and crispy. Turn the leaves over and grill for another minute or so until just charred.

Stir 3 tablespoons of the mint and half of the cheese into the cauliflower risotto and season with salt and plenty of black pepper.

Spoon the risotto into serving bowls, then top with the charred cauliflower leaves and the remaining mint and cheese. Serve straightaway.