Lunch/Dinner Char Siu Chicken with Garlic Tenderstem Broccoli
---
Preparation Time: 10 minutes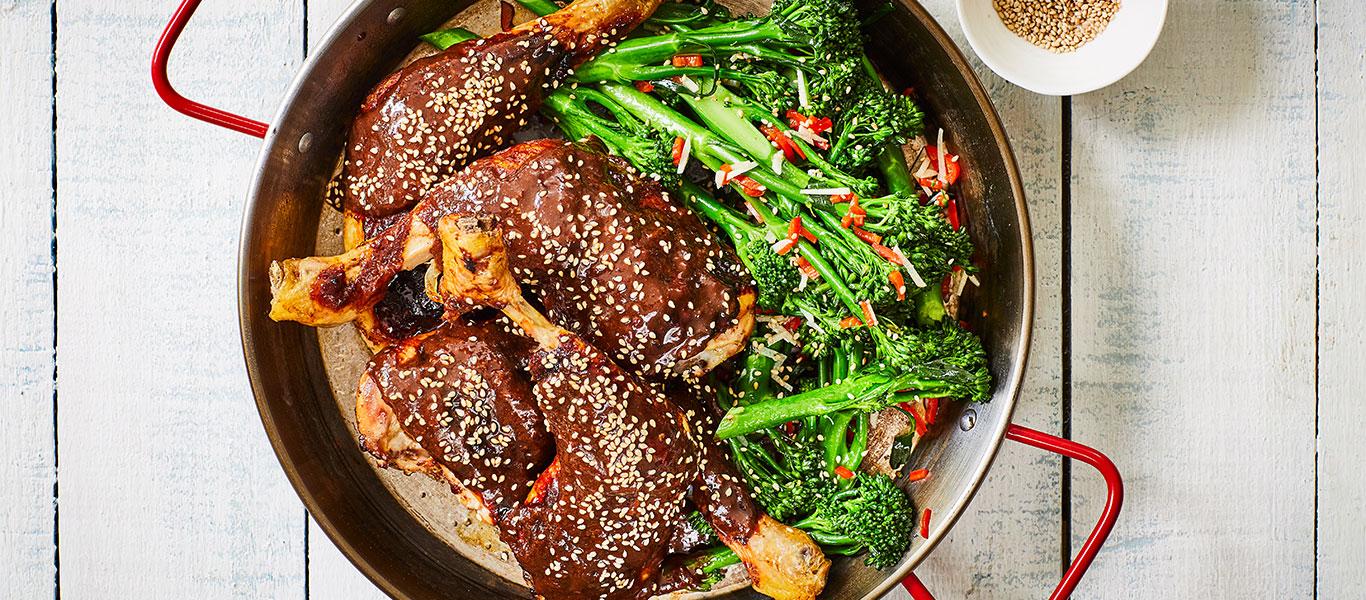 Ingredients
4 garlic cloves, 2 grated and 2 finely sliced

5cm piece ginger, peeled and grated

2 tsp 5 spice powder

4 tbsp tomato ketchup

6 tbsp hoisin sauce

4 tbsp reduced salt soy sauce

4 tbsp rice vinegar

4 chicken legs

1 tsp vegetable oil

320g tender stem broccoli

1 red chilli, seeded and finely sliced

2 tsp toasted sesame oil

1 tsp toasted sesame seeds
Method
Preheat the oven to 200°C/fan 180°C/gas 6.

Place the 2 grated garlic cloves, ginger, 5 spice, tomato ketchup, hoisin and soy sauce and rice vinegar into a bowl and whisk together.

Lay the chicken legs onto a tray and spoon over half the marinade. (If you have time, you can cover and place in the fridge for at least 1 hour or up to 24 hours.)

Place in the oven for 30 minutes until cooked through. To check the chicken is cooked, insert a knife or skewer into the fattest part of the thigh. If the juices run clear, the chicken is cooked through. If any blood comes out, return it to the oven for another 5–10 minutes, then check again.

When the chicken has 5 minutes left to cook, heat a wok or sauté pan until hot. Add 100ml water and the broccoli and steam fry for 2-3 minutes.

Add the sliced garlic and chillies and fry for another minute, before stirring in the sesame oil.

Tip straight onto a serving platter/plate, then return the pan to the heat and add the reserved marinade. Cook for 1-2 minutes until bubbling and hot through.

To serve, place the chicken onto the plates, spoon over the sauce then lay the broccoli alongside and scatter with the sesame seeds.