Preparation Time: 10 minutes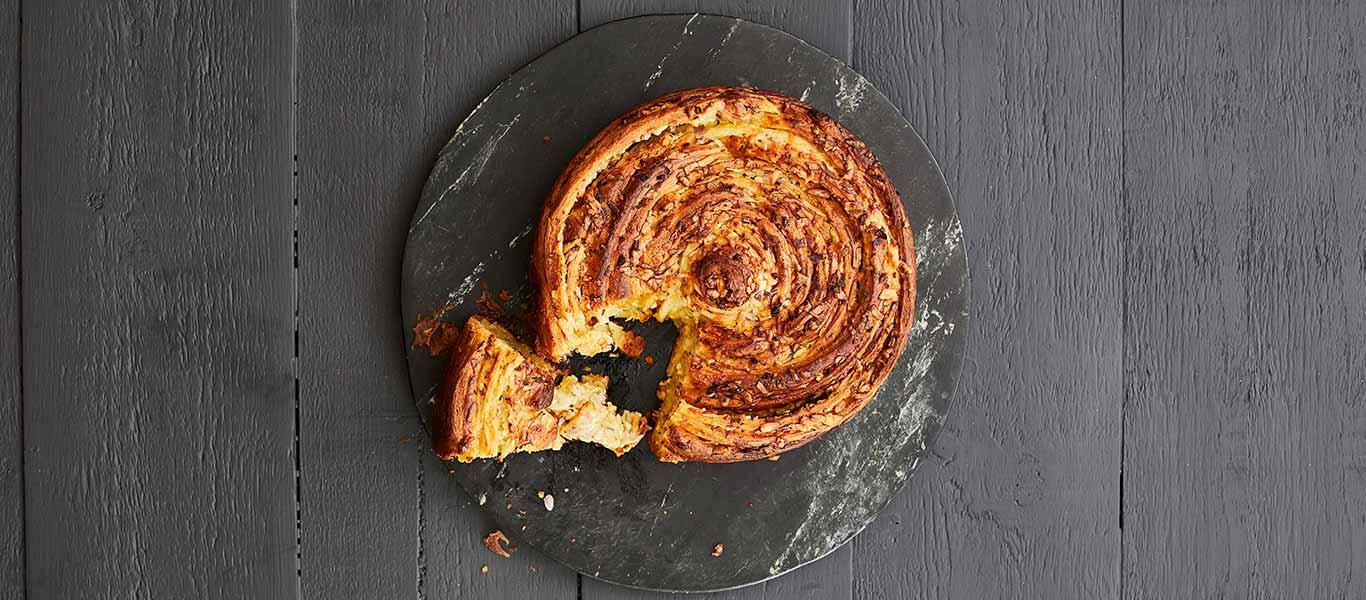 Ingredients
2 x 350g croissant dough or 700g puff pastry, rolled into 5mm thick rectangle
2 tbsp English mustard
1 red onion, finely chopped
2 tbsp chopped thyme leaves
300g mature cheddar cheese, grated
freshly ground black pepper
Nutrition
Calories column
Fat column
Saturates column
Sugars column
Salt column

Calories
397

per serving

19%

%GDA

Fat
26g

per serving

37%

%GDA

Saturates
15g

per serving

75%

%GDA

Sugars
7g

per serving

7%

%GDA

Salt
1.60g

per serving

27%

%GDA
Method
Preheat the oven to 200°C/fan 180°C/ gas mark 6 and grease a 20cm deep sided round cake tin and line the base with baking parchment.

Unroll both the croissant doughs and lay out next to each other, across a lightly floured work surface and brush the dough with the mustard.

Tip the onion, thyme and cheese into a bowl and mix together, then scatter over the dough to cover it totally. Season with black pepper and press down gently so that the cheese sticks to the dough.

Cut the dough lengthways into 3 strips each – so you have 6 strips in total. Starting at one short edge, roll the dough up carefully into a pinwheel, then turn and continue rolling into a pinwheel with the next strip. Repeat until all 6 strips are formed into a huge pinwheel.

Carefully transfer the roll to the cake tin – whirl side upwards. Scatter over any leftover cheese and onion that's fallen out then bake in the oven for 40 minutes until golden brown and risen. If it's getting a little brown on top, cover with foil and continue to bake.

Remove and cool for 10 minutes in the tin before lifting out, using the parchment paper and laying onto a wire rack.

Serve warm cut into wedges or just simply torn apart.