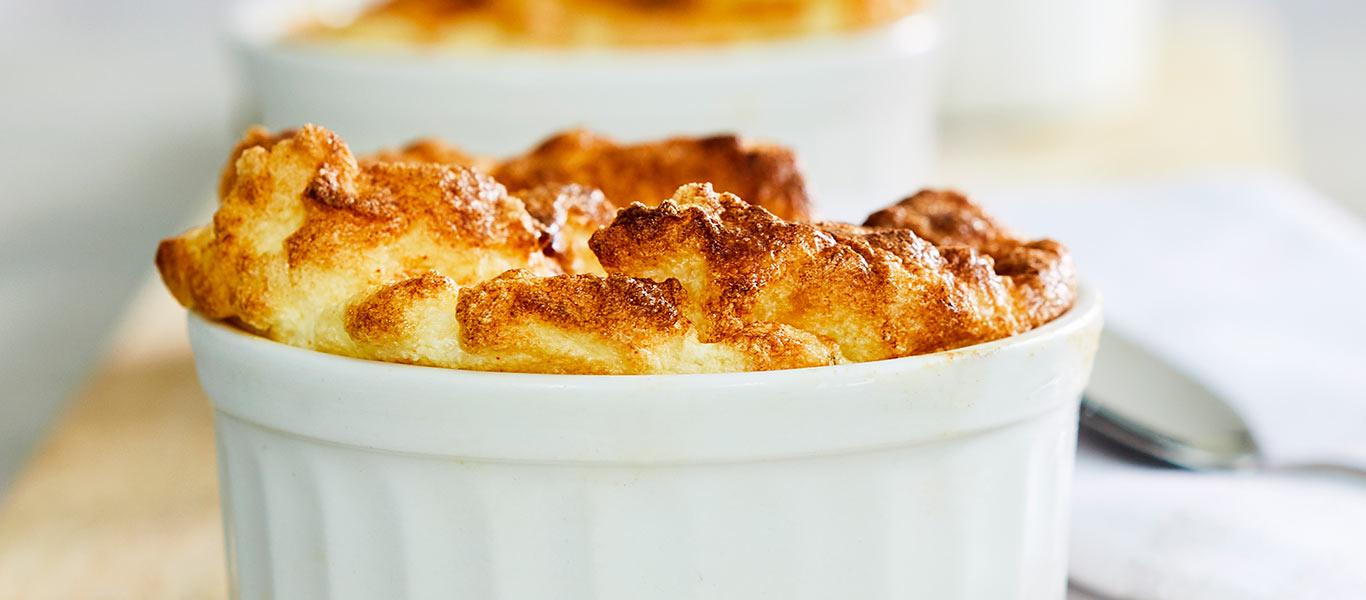 Ingredients
50g salted butter
25g plain flour, plus 1 tbsp for dusting the ramekins
300ml full-fat milk
1 tsp English mustard
Pinch of paprika
Sea salt and freshly ground black pepper
3 medium free range eggs, separated
100g Mature Cheddar, grated
Method
Place a large baking tray in the centre of the oven and preheat the oven to 200°C/Fan 180°C/Gas Mark 6. Melt half the butter in a saucepan and use liberally to grease 6x8cmx 4cm deep ramekins, brush the sides of the ramekins vertically, this will help the souffles to rise. Place 1 tbsp of flour in one of the ramekins and tip around the inside of the ramekin until well covered. Place the excess flour in the second ramekin and repeat as above with the remaining ramekins.

Melt the remaining butter in a saucepan. Add the flour and stir to combine. Slowly add the milk, stirring continuously. Bring to the boil, reduce the heat and simmer for 1-2 minutes. Remove from the heat. Stir in the mustard, paprika and seasoning.

Whisk the egg whites with a hand held whisk on a low setting until foamy. Increase the speed until the egg whites hold their shape and form stiff peaks.

Stir the egg yolks and cheese into sauce. Fold in the egg whites. Divide the mixture equally between the ramekins. Use a small piece of kitchen paper and your thumb to run around each ramekin edge, this will help the soufflé to rise cleanly. Place the souffles on the hot baking tray in the oven and cook for 15 minutes. Serve straight away.