Preparation Time: 5 minutes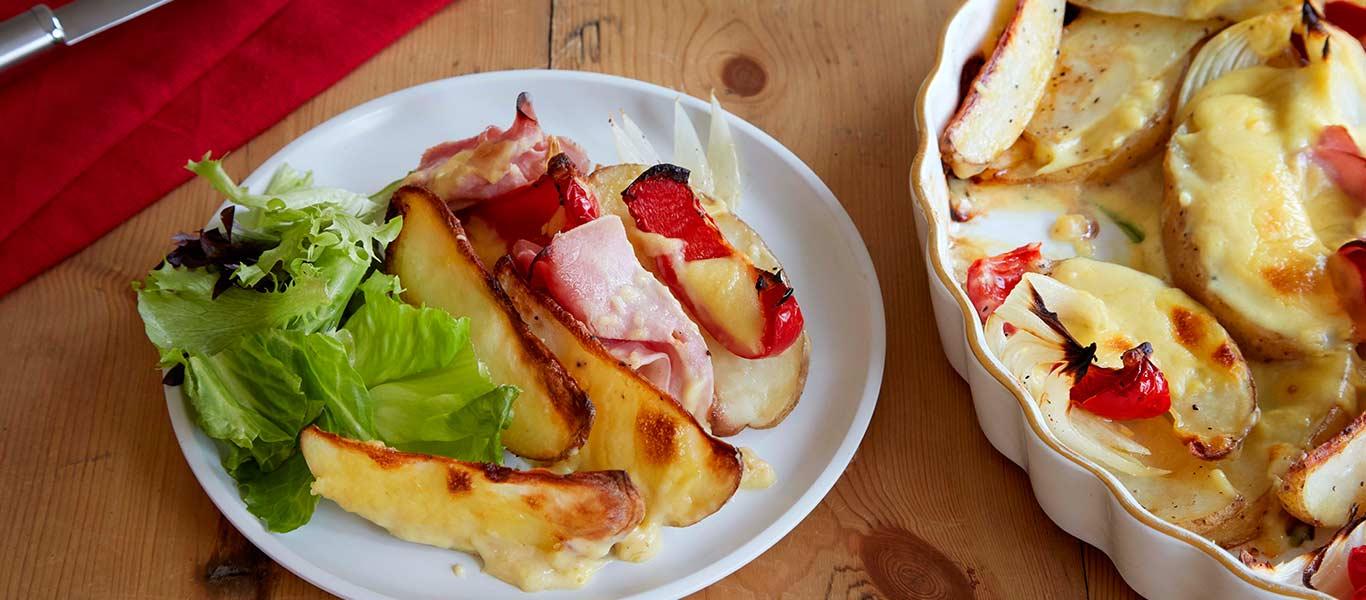 Ingredients
2 large baking potatoes, cut into wedges
1tbsp vegetable oil
Salt and pepper
25g butter
25g plain flour
300ml skimmed milk
65g cheese, grated
1tsp Worcester sauce
½tsp English mustard
1 red pepper, cut into 6 large chunks
1 small onion, peeled and cut into eighths
1 pack of sandwich ham
Salad to serve
Method
Preheat the oven to 200°C, 180°C Fan, Gas Mark 6.

Place the potatoes in a ceramic ovenproof dish and coat with vegetable oil. Season and place in the oven for 15 minutes.

In a large saucepan melt the butter and stir in the flour. Let the mixture cook for a few minutes, then whisk in the milk a little at a time. Keep whisking until all the lumps are gone. Reduce the heat and keep stirring from time to time over 5 minutes until the sauce has thickened. Mix in the cheese, Worcester sauce and English mustard and set aside.

After the potatoes have been in the oven for 15 minutes, add the peppers and onion and stir to mix them together. Return to the oven and cook for a further 15 minutes.

Remove the dish from the oven, add the slices of ham, tucking them in-between the vegetables. Pour over the cheese sauce and return to the oven for 10 minutes until the sauce is bubbling and golden, and the potatoes are crisp. Serve hot with a green salad on the side.