Preparation Time: 20 minutes Plus cooling time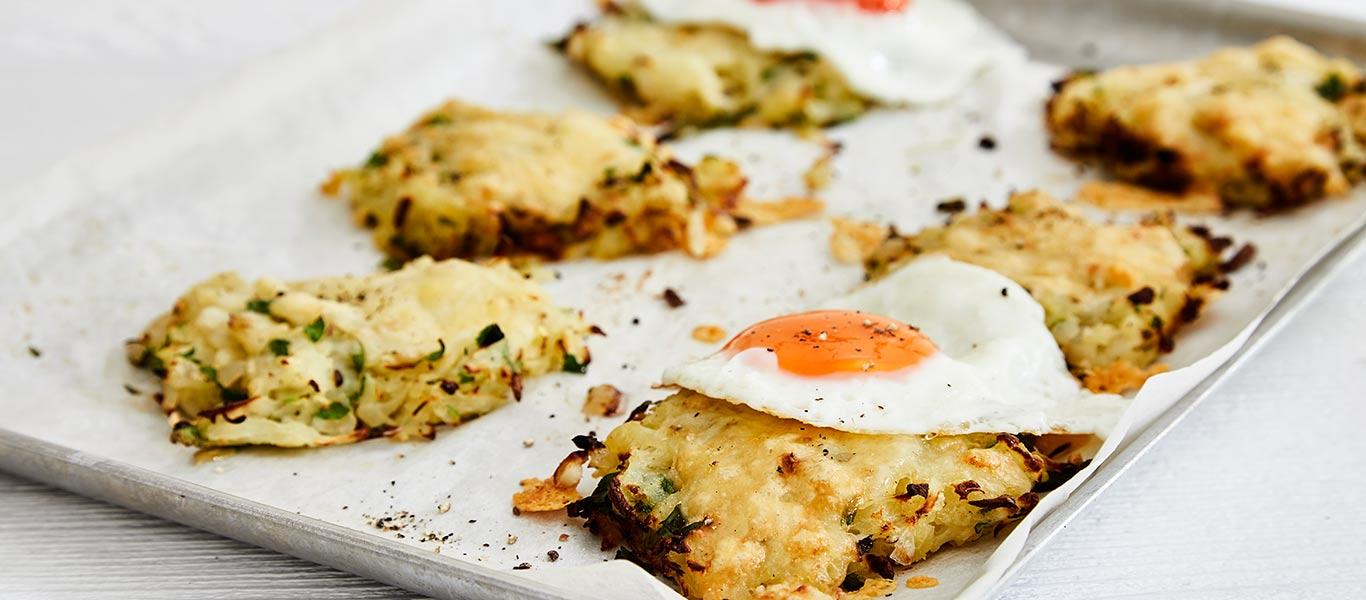 Ingredients
500g baking potatoes, quartered, at room temperature
1 tbsp sunflower oil
1 small onion, peeled and finely chopped
1 large garlic clove, or 2 small cloves, peeled and finely chopped
small bunch curly parsley, finely chopped
pinch grated nutmeg
salt and freshly ground black pepper
olive oil, to drizzle
50g cheddar cheese, grated
sunflower oil
2 medium free range eggs, at room temperature
Method
Place the potatoes in a large sauce pan. Cover with cold water. Bring to the boil and cook for 6-8 minutes. Drain and cool for at least 10 minutes.

Preheat the oven to 220°C/Fan200°C/Gas Mark 7. Heat the oil in a small frying pan and add the onion and garlic cook for 2-3 minutes, stirring continuously, without browning the onion. Place in a large mixing bowl.

Peel the potatoes using a knife to help you peel away the skins. Coarsely grate the potatoes on a grater. Add to the onion mixture. Stir through the parsley, nutmeg and season.

Divide the mixture into 6 and place on a baking tray lined with baking parchment. Press down on each rosti. Drizzle with olive oil and sprinkle equally with the cheese. Place in the oven and bake for 20-25 minutes.

Just before the end of cooking time heat a thin layer of sunflower oil in a frying pan to a medium heat. Crack the eggs on a work surface and add to the frying pan. Fry the eggs for 1-2 minutes on a medium heat, reduce the heat to low and cook for a further 1-2 minutes. Spooning the oil over the egg every now and then. The egg white should be set and the yolk still runny when cooked. Serve with the rostis sprinkled with pepper.