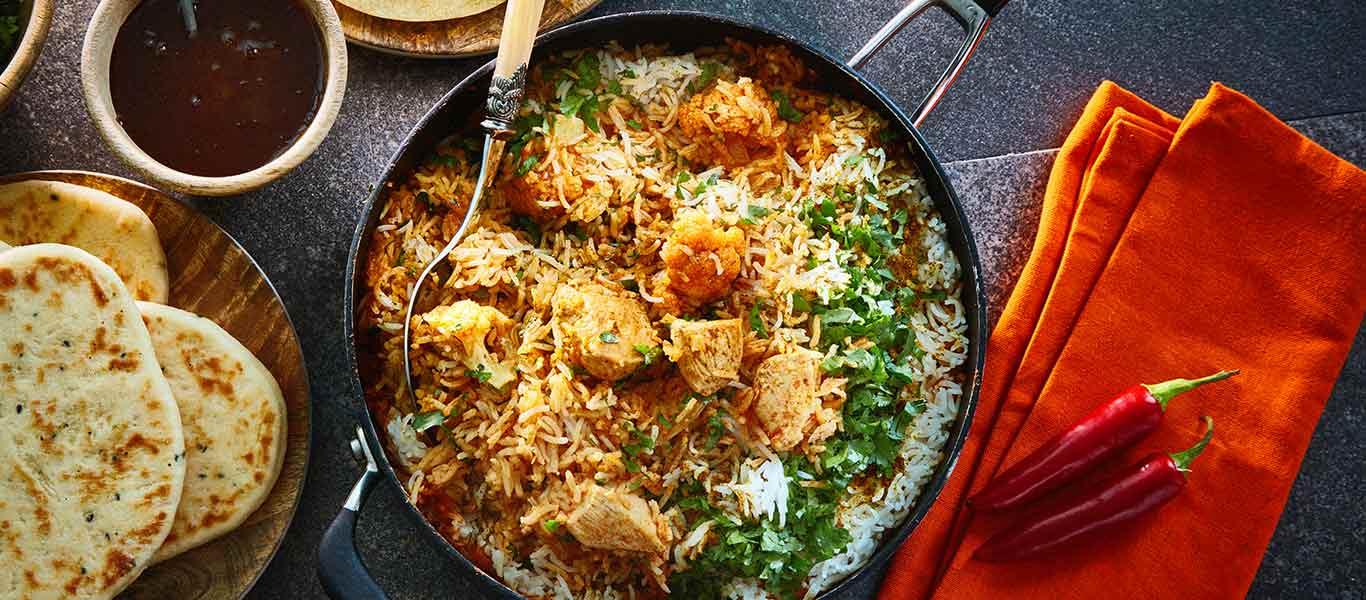 Ingredients
250g basmati rice
25g butter
1 onion, finely sliced
2 garlic cloves, finely chopped
5cm piece ginger, peeled and finely chopped
300g cubed chicken breasts
250g cauliflower, cut into medium florets
1 x Patak´s tikka masala sauce
1 tbsp garam masala
3 tbsp coriander, roughly chopped
To serve
1 pack poppodoms
1 jar mango chutney
Method
Bring a pan of salted water to the boil, add the rice and cook for 6 minutes until just starting to soften. Drain then set aside.

While the rice cooks, heat a large sauté pan until medium hot, add the butter and when ités foaming, add the onion and cook for 6 minutes until just softened. Add the garlic and ginger and cook well for 2 minutes.

Add the chicken breast and stir fry for 2 minutes to just colour, then add the cauliflower and tikka masala sauce and stir well to combine. Pour 200ml of water into the jar, put the lid on and shake it well to release the last of the sauce then add it to the pan and stir through.

Spoon the drained rice over the top, sprinkle over the garam masala and spread evenly to cover. Cover with a tight fitting lid then turn the heat down and simmer gently for 10-12 minutes until the chicken is cooked through and the rice is tender.

Remove the lid, sprinkle with the chopped coriander then gently stir through to combine the rice with the curry. Season with plenty of sea salt and black pepper and serve with popodoms, breads and mango chutney.