Preparation Time: 10 minutes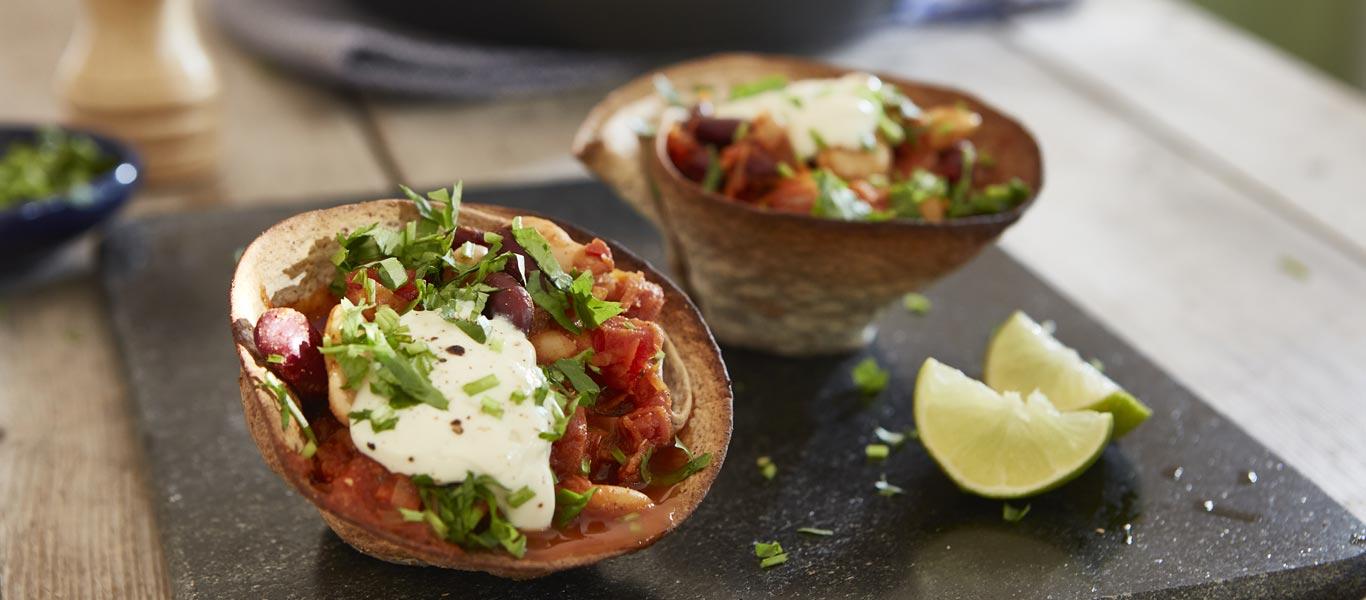 Ingredients
Vegetable oil spray
4 small soft tortilla wraps
2 tsp ground coriander
1 onion, roughly chopped
2 carrots, peeled and grated
2 garlic cloves, crushed or finely grated
2 red chillies, deseeded and finely chopped
2 tsp ground cumin
1 tsp paprika
½ tsp chilli powder
1 tbsp tomato purée
1 x 400g tin red kidney beans, drained and rinsed
1 x 400g tin butter beans, drained and rinsed
1 x 400g tin chopped tomatoes
1 reduced salt vegetable stock cube
Freshly ground black pepper
1 lime, zested and juiced
4 tbsp dairy free yoghurt
1 tbsp roughly chopped coriander
Nutrition
Calories column
Fat column
Saturates column
Sugars column
Salt column

Calories
231

per serving

12%

%GDA

Fat
4g

per serving

6%

%GDA

Saturates
1g

per serving

2%

%GDA

Sugars
11g

per serving

12%

%GDA

Salt
0.60g

per serving

10%

%GDA
Method
Preheat the oven to 200°C, fan 180°C, gas mark 6.

Spray the tortilla wraps with the vegetable oil then sprinkle a little ground coriander over and press, oil side down into a 6 or 12 deep hole muffin tin – they will stick out slightly, but ease them in so that they create a cup. Make sure that you don't put them all next to each other – they need a little space.

Bake in the oven for 8–10 minutes until golden brown and just crispy. Set aside to cool while you make the chilli.

Heat a large sauté or saucepan until medium hot. Spray the vegetable oil then add the onion and carrots and fry for 2-3 minutes until just softened. Add the garlic, chillies, cumin, paprika, ground coriander and chilli powder and fry for another 2 minutes until just toasted.

Add the tomato purée and fry for 1 minute, then add the drained beans and chopped tomatoes. Refill the tomato can with water, add to the pan then crumble in the stock cube and stir well.

Stir well, cover with a lid and bring to the boil. Turn the heat down and simmer for 10 minutes until the vegetables are tender and the sauce just thickened.

Grate the lime zest into the chilli then add the lime juice and plenty of black pepper and stir well.

Divide the tortilla cups between serving plates and spoon the chilli into them.

Top with the yoghurt and roughly chopped coriander and serve straightaway.