Preparation Time: 10 minutes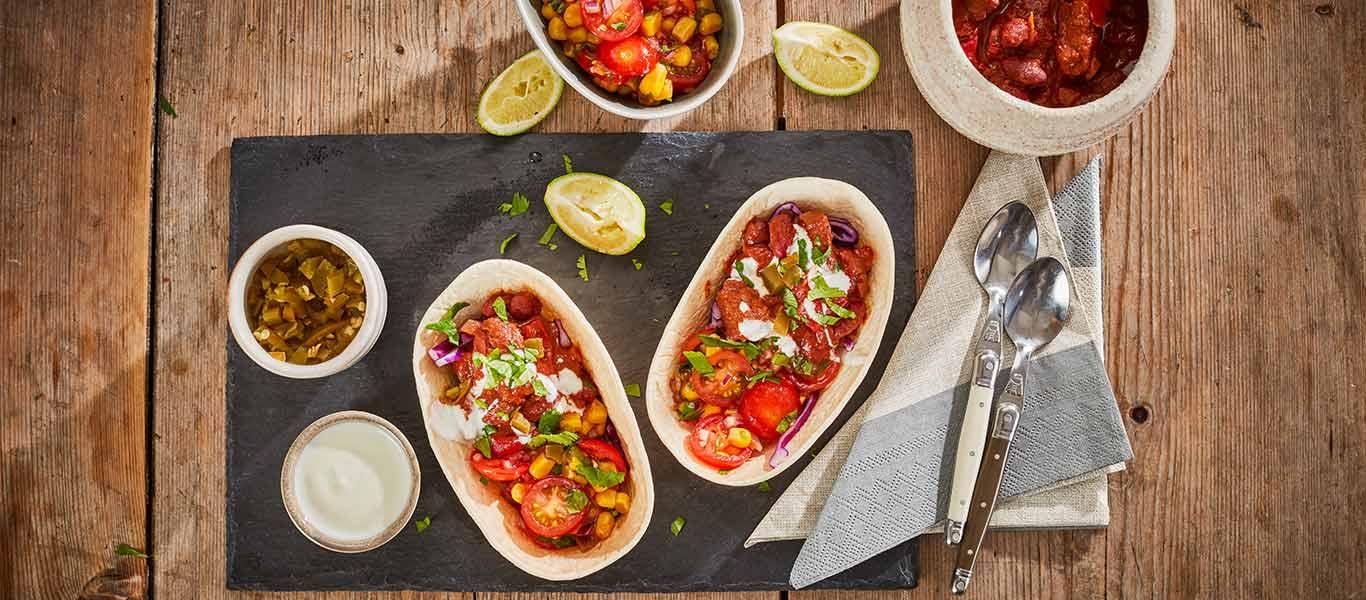 Ingredients
1 tsp vegetable oil
500g diced beef
1 red onion, roughly chopped
1 red chilli, seeded and sliced
1 red pepper, seeded, cut into strips then sliced
1 x 350g Stand and Stuff BBQ Taco Kit
½ tsp ground cinnamon
½ tsp chilli flakes
1 tbsp tomato puree
1 x 400g tinned chopped tomatoes
1 x 400g tin kidney beans, drained and rinsed (net 240g)
1 x reduced salt beef stock cube
20g dark chocolate, roughly chopped
Freshly ground black pepper
1 x small bunch coriander
2 limes, quartered
Ingredients for salsa –
1 x tomato salsa from taco kit
220g cherry tomatoes, thickly sliced
½ red onion, finely diced
1 x 198g Jolly Green Giant sweetcorn no salt, drained (165g sweetcorn)
4 tbsp coriander, roughly chopped
200g red cabbage, finely sliced
20g green jalapeno chillies, drained and roughly chopped
80g Biotiful original kefir
Nutrition
Calories column
Fat column
Saturates column
Sugars column
Salt column

Calories
586

per serving

29%

%GDA

Fat
13g

per serving

19%

%GDA

Saturates
4g

per serving

20%

%GDA

Sugars
27g

per serving

30%

%GDA

Salt
2.90g

per serving

48%

%GDA
Method
Heat a large sauté pan or casserole until hot. Add the oil and beef and fry until browned on all sides, then pull the meat across to one side and add the onion.

Fry for a couple of minutes, then mix with the beef, add the chopped chilli and pepper and cook for another minute.

Stir in the spices from the Taco Kit, the ground cinnamon, chilli flakes and tomato puree and cook for 2 minutes.

Add the tinned beans and tomatoes, refill the empty tomato can with water and add to the pan.

Add the stock cube/pot and bring to the boil, stirring occasionally. Turn the heat down to a simmer, cover and cook gently for 40 minutes until the beef is tender and the sauce reduced slightly.

Meanwhile, prepare the salsa. Tip the sachet of salsa into a large bowl, add the cherry tomatoes, red onion, sweetcorn and half the chopped coriander and stir together gently until everything is coated in the salsa.

Heat the tacos according to packet instructions.

When the beef is tender, stir in the grated chocolate and half the remaining coriander. Season with a little black pepper and remove from the heat.

Pile the shredded red cabbage and tomato salsa into the shells, then top with the jalapeno chillies and a dollop of kefir. Scatter the last of the coriander over the top with wedges of lime, and serve the remaining shells alongside to scoop the chilli up with.