Preparation Time: 10 minutes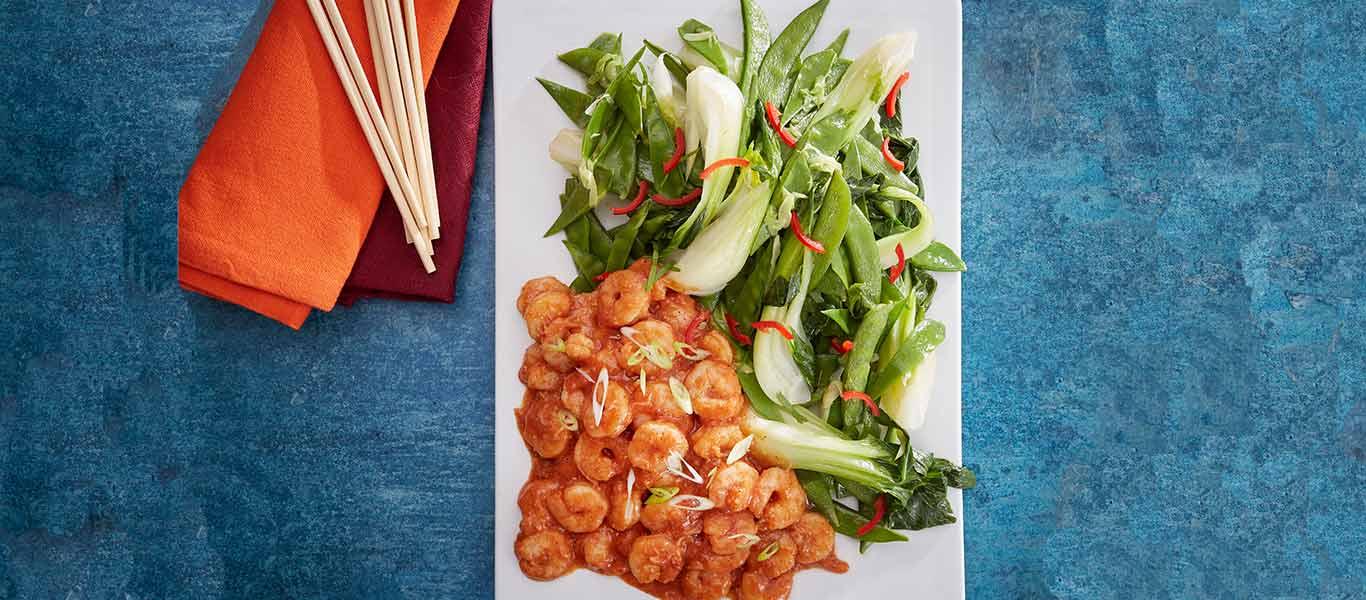 Ingredients
300g cooked king prawns
2 garlic cloves, finely grated or crushed
5cm piece ginger, peeled and finely grated
½ tsp chilli powder
1 tbsp cornflour
4 tsp reduced salt soy sauce
4 tbsp tomato sauce
1 tbsp vegetable oil
5 spring onions, finely sliced
100g mangetout, shredded
100g sugar snap peas
2 heads pak choi, or 120g pointed cabbage, cut into thin wedges
1 small red chilli, sliced
Method
Tip the prawns into a bowl, add the garlic, ginger, chilli powder and cornflour and mix really well.

Stir the prawns in and mix until the prawns are totally coated.

Heat a wok until hot then add the soy sauce, 75ml water, and the tomato sauce and whisk until smooth and just simmering.

Add the prawns and heat for 2-3 minutes until hot through and the sauce has thickened slightly.

Heat a large pan until hot, add the oil and all but 1 tbsp of the spring onions and fry for 1 minute.

Add the mangetout and sugar snap and stir well, then lay the pak choi or pointed cabbage over the top. Add 100ml water and cover with a lid.

Simmer/steam for 3-4 minutes until just tender.

Divide the vegetables between serving plates, then spoon the prawns alongside. Top with the remaining spring onion and chilli.