Preparation Time: 10 minutes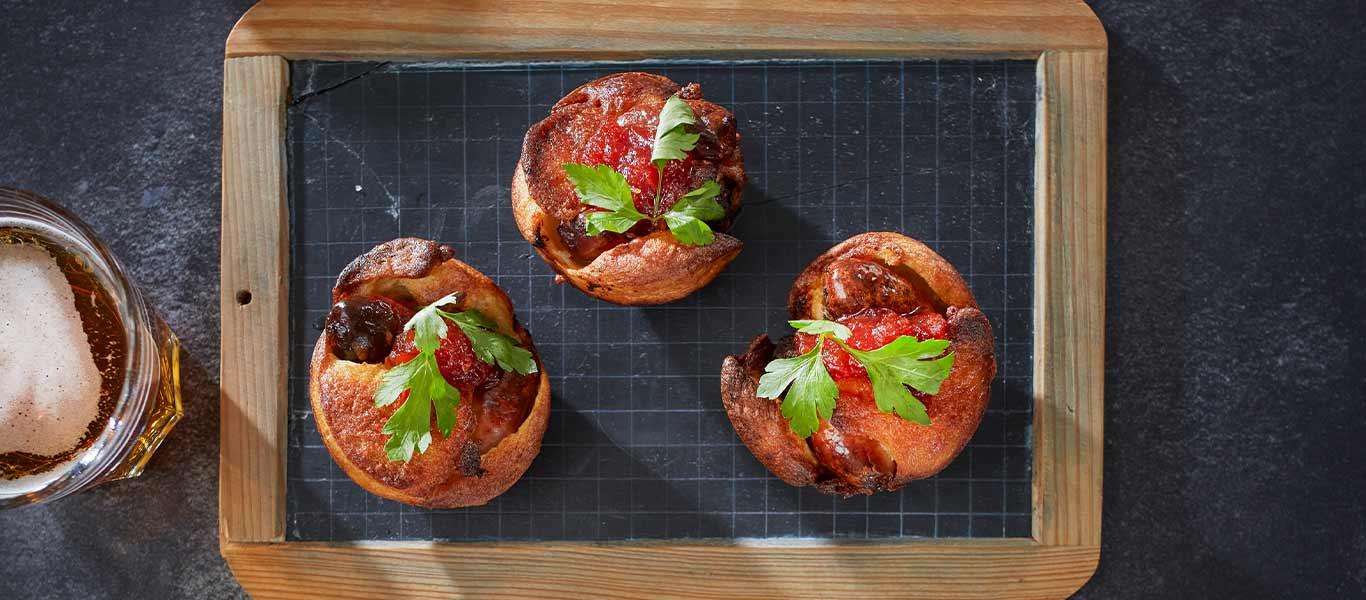 Ingredients
100g plain flour
Sea salt and freshly ground black pepper
3 eggs 225ml semi skimmed milk
2 tsp grainy mustard
12 chipolata sausages, cut in half
3 tbsp vegetable oil
4 tbsp onion relish
12 sprigs flat leaf parsley
Nutrition
Calories column
Fat column
Saturates column
Sugars column
Salt column

Calories
173

per serving

9%

%GDA

Fat
10g

per serving

14%

%GDA

Saturates
3g

per serving

15%

%GDA

Sugars
2g

per serving

2%

%GDA

Salt
0.90g

per serving

15%

%GDA
Method
Preheat the oven to 240°C, fan 220°C, gas mark 9.

Tip the flour into a medium bowl and make a well in the centre. Tip the salt, black pepper, eggs, mustard and milk into the well.

Starting in the centre, whisk the liquid into the flour, making your way out to the outside, until you have a thick smooth batter. Ideally set aside for at least 30 minutes, or even, covered in a fridge overnight.

Divide the oil or lard, between the holes in a deep 12 hole muffin tin and place 2 pieces of chipolata into each one. Place in the oven for bake for 8 minutes.

Slide the oven rack out with the tray on and carefully pour the batter over each of the chipolatas into the tin. Slide the shelf back in and shut the door. Turn the oven down to 230°C, fan 210°C, gas 7 and cook for 20 minutes until the chipolata is cooked through and the Yorkshire risen and just crisp.

Top with a spoonful of onion relish and sprig of parsley, then remove from the tin and serve straightaway.