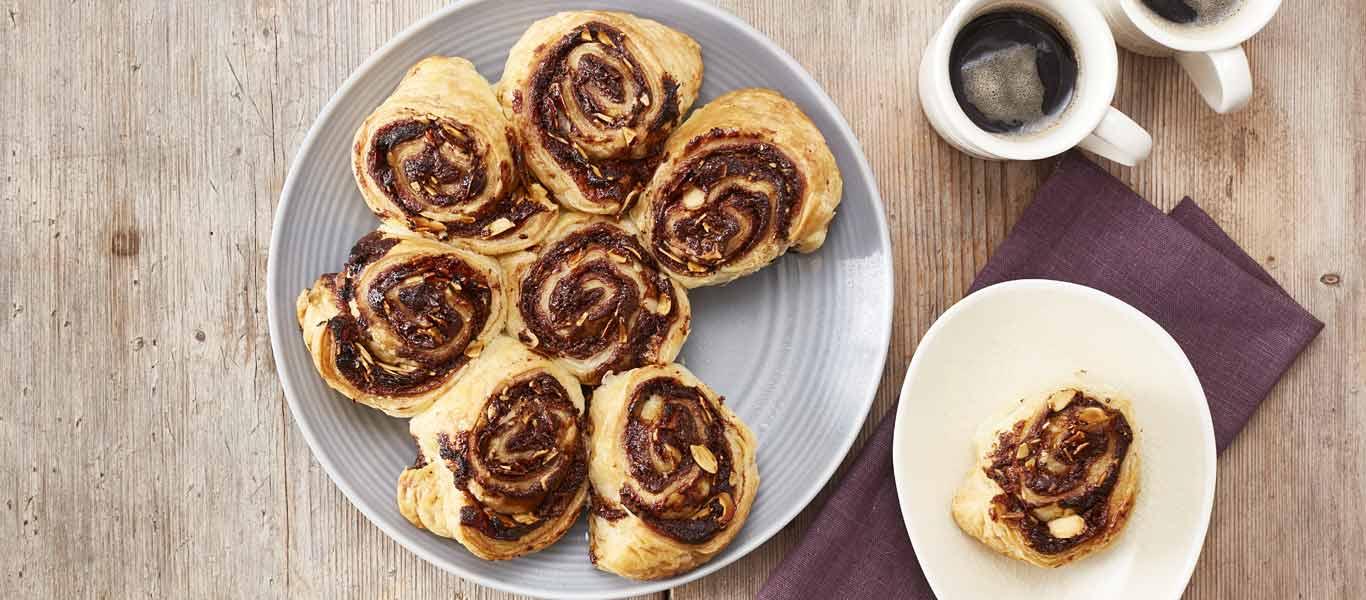 Ingredients
1 x 320g ready rolled puff pastry
175g chocolate hazelnut spread
40g toasted flaked almonds
Nutrition
Calories column
Fat column
Saturates column
Sugars column
Salt column

Calories
297

per serving

15%

%GDA

Fat
19g

per serving

27%

%GDA

Saturates
7g

per serving

35%

%GDA

Sugars
13g

per serving

14%

%GDA

Salt
0.40g

per serving

7%

%GDA
Method
Preheat the oven to 180°C/fan 160°C/ gas mark 4 and line a 20cm round cake tin with baking parchment.

Unroll the pastry within the parchment paper and spread the Nutella across the dough.

Scatter the flaked almonds across the top and press down gently so that they stick to the chocolate.

Roll the pastry up from one long side into a long pinwheel.

Cut the pinwheel into 8 even pieces.

Carefully transfer the rolls to the cake tin – whirl side upwards, one in the centre then the remaining 7 evenly spaced around it.

Place in the oven to bake for 45 minutes until golden brown and crispy.

Remove and cool for 10 minutes in the tin before lifting out, using the parchment paper and laying onto a wire rack.

Serve warm simply torn apart.