Preparation Time: 10 minutes
Cooking Time: 50 minutes, plus cooling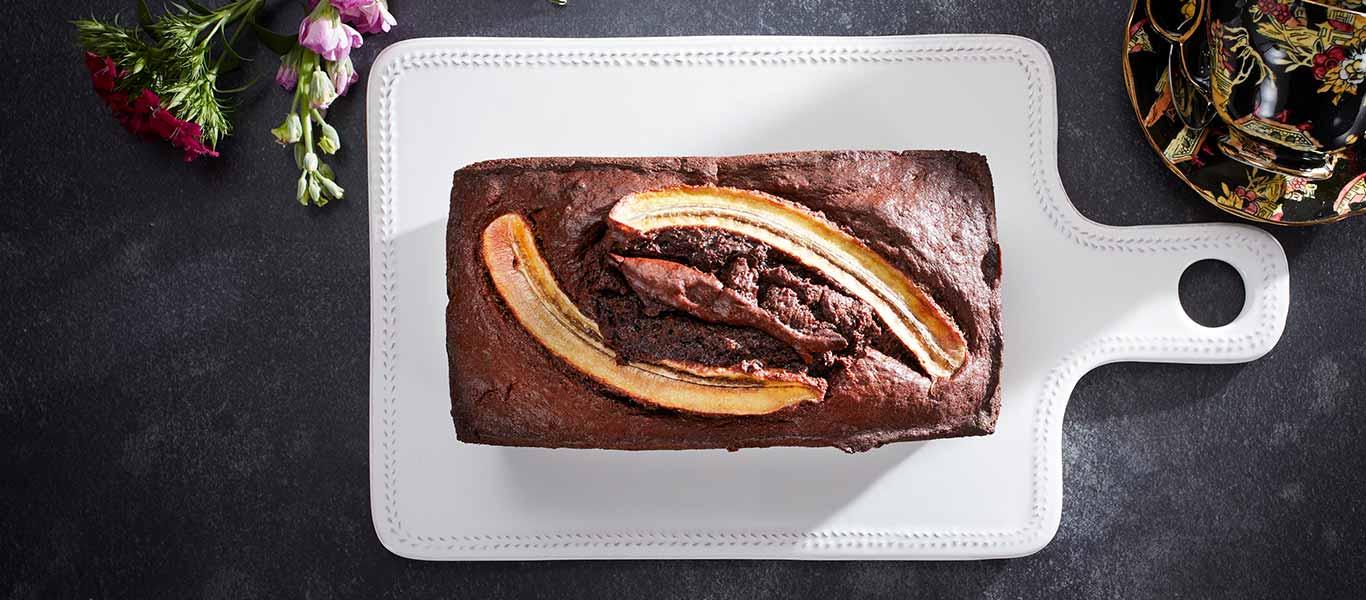 Ingredients
100g Lurpak lightly salted butter, softened
175g soft dark brown sugar
4 ripe bananas, peeled
3 eggs
2 tbsp milk
1 tsp vanilla extract
175g self-raising flour
½ tsp bicarbonate of soda
60g cocoa powder
Nutrition
Calories column
Fat column
Saturates column
Sugars column
Salt column

Calories
240

per serving

12%

%GDA

Fat
10g

per serving

14%

%GDA

Saturates
6g

per serving

28%

%GDA

Sugars
20g

per serving

22%

%GDA

Salt
0.40g

per serving

7%

%GDA
Method
Preheat the oven to 180°C/160°C fan/gas mark 4. Grease and line the base of a 1kg loaf tin.

Tip the butter into a bowl, add the sugar and beat until smooth and slightly fluffy.

Mash 3 of the bananas into the butter mixture and beat until nearly smooth.

Add the eggs and vanilla whisk together until incorporated.

Sift the self-raising flour, cocoa and salt over the top, then fold the mixture together.

Pour into the lined tin and smooth the top, then slice the remaining banana lengthways and lay, cut side up, down the centre of the batter.

Place in to the oven to bake for 1 hour until the cake is cooked through – check with a skewer through the centre of the cake. It should come out clean, if not return to the oven for another 5 minutes and check once more.

Remove from the oven and allow to cool for at least 15 minutes in the tin, before decanting and cooling to room temperature.

Cut into slices to serve.

Keep in a sealed container in a cool place for up to 4 days.