Desserts Chocolate, Cherry and Coconut Sponge Pudding
---
Preparation Time: 5 minutes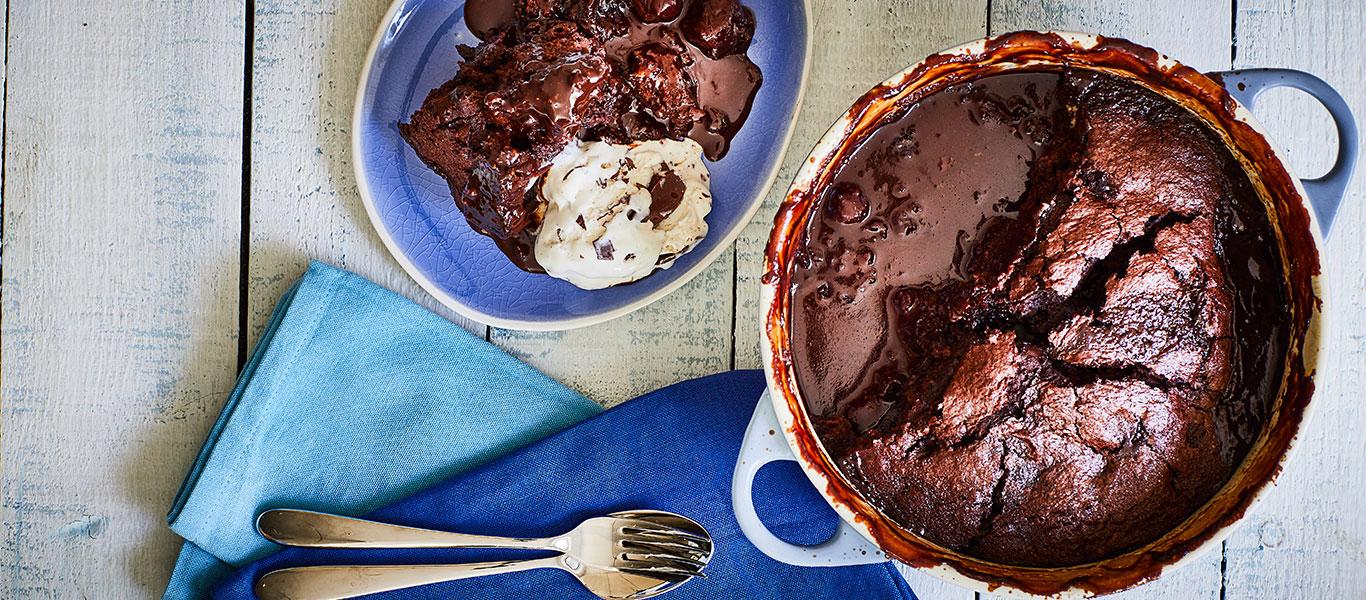 Ingredients
50g butter, plus extra for greasing
50g dark chocolate, roughly chopped
100ml reduced fat coconut milk
2 large eggs
125g self-raising flour
25g cocoa
½ tsp baking powder
75g caster sugar
100g white chocolate, roughly chopped
250g fresh cherries, stoned and halved, or 400g tinned black cherries, drained and juice reserved
Ingredients for the sauce -
40g cocoa
200g caster sugar
225ml reduced fat coconut milk
200ml semi skimmed milk if using fresh cherries
To serve -
300g vanilla and chocolate ice cream (Magnum tub)
Method
Preheat the oven to 180°C/fan 160°C/gas 4 and butter a medium large ovenproof dish.

Put the butter and dark chocolate into a bowl and set over a pan of simmering water until just melted.

Add the 100ml coconut milk and whisk together, then remove from the heat and cool slightly.

Sift the flour, baking powder and cocoa powder into a large bowl then stir in the sugar.

Pour in the melted chocolate mixture and whisk then crack the eggs in and mix together until smooth.

Fold in the chopped chocolate and fresh or drained tinned cherries then spoon into the ovenproof dish.

Set aside, then take a separate bowl and sift the cocoa powder into it. Stir in the sugar then add 200ml milk or the reserved cherry juice if using and the remaining coconut milk and whisk until totally smooth.

Pour over the top of the sponge mixture – it will sink to the bottom of the sponge during cooking and create a chocolatey sauce. Place in the oven to bake for 35-40 minutes until risen and just firm.

Spoon out onto serving plates and finish with a spoonful of vanilla chocolate ice cream.