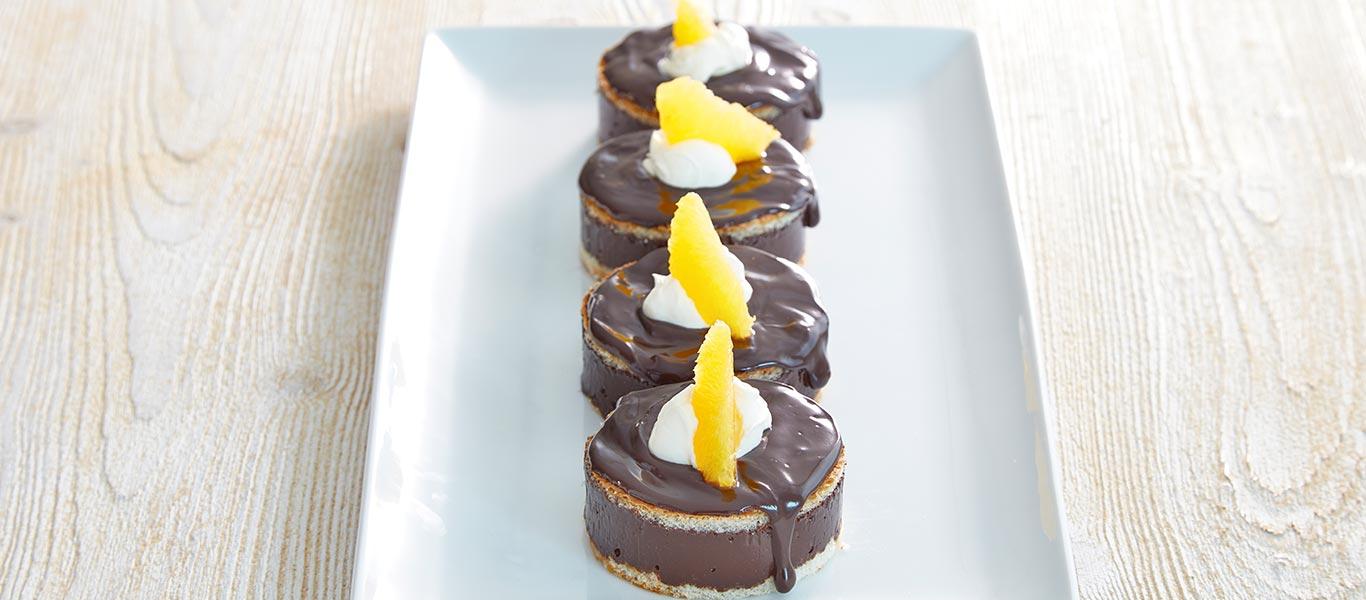 Ingredients
1 large flan case
50ml orange liqueur (or orange juice)
200g dark chocolate (70% cocoa solids), broken into pieces
2 medium eggs, separated
75ml double cream
1 orange, zested
50g caster sugar
Chocolate sauce
40g caster sugar
50ml water
100g dark chocolate, roughly chopped
100ml double cream
4 orange segments
Method
Using either empty clean small baked bean tins with both the top and bottom cut off, or 8cm wide, 5cm deep chef rings, stamp out 4 discs from the flan case. Set the remaining flan aside to use in a trifle or as crumbs.

Lay the discs onto the work surface and cut in half horizontally so that you have 2 thin discs for each disc.

Place the tins or rings onto a greaseproof lined flat baking sheet and drop one disc of sponge into each one. Drizzle half the orange liqueur over the sponge then set aside while you make the mousse.

Melt the chocolate until liquid and smooth, then whisk in the egg yolks, double cream and orange zest.

In a separate clean bowl, whisk the egg whites until soft peaks form, then add the sugar a little at a time until stiff peaks form.

Quickly and carefully fold the meringue mixture into the chocolate mixture.

Divide the mixture between the tins or chefs ring, gently tapping the tray to settle the mixture.

Drizzle the last of the orange liqueur over the remaining sponge discs then carefully place on top of the chocolate mousse to cover totally.

Place in the fridge for 2 hours to set before removing.

When ready to serve, slide a knife in down the side of the tin to release the mousse and flip out back onto the serving dish.

Make the chocolate sauce - put the sugar and water into a small saucepan and bring to the boil. When boiling, remove from the heat and stir in the chopped chocolate, keeping stirring until smooth.

Spoon over the top of the sponge, allowing a little to dribble over the sides. Finish with a spoonful of whipped cream and a piece of orange.