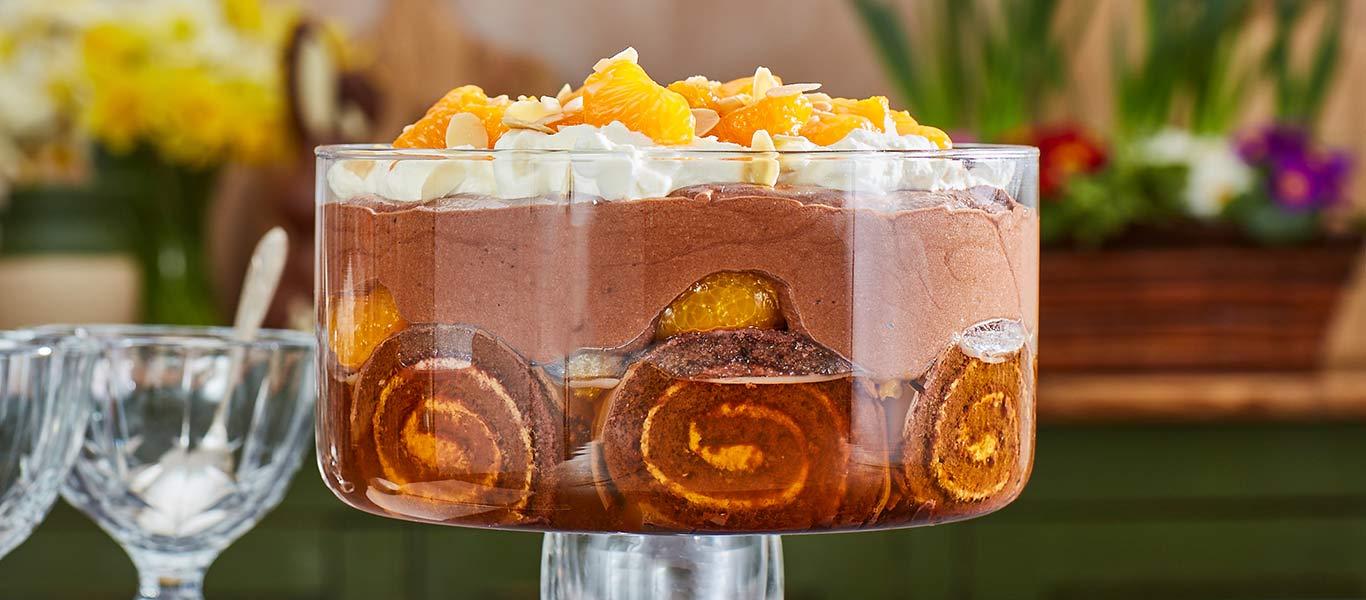 Ingredients
125g chocolate swiss roll, cut into thick slices
135g orange jelly
2 x 298g tinned mandarins in juice, tip one tin in on top of the jelly straight away
285ml water
285ml from tinned mandarins
200g Bournville block, roughly chopped
400ml whipping cream
2 egg whites
2 tbsp flaked almonds, toasted
Nutrition
Calories column
Fat column
Saturates column
Sugars column
Salt column

Calories
935

per serving

47%

%GDA

Fat
60g

per serving

86%

%GDA

Saturates
34g

per serving

170%

%GDA

Sugars
78g

per serving

87%

%GDA

Salt
0.40g

per serving

7%

%GDA
Method
Layer the swiss roll slices into a suitable glass bowl – wide and shallow if possible.

Set the kettle to boil, then cut the jelly into small pieces and place into a heatproof bowl. Pour 285ml boiling water over the jelly and stir to combine.

Set aside for a minute or so until the jelly has melted, then stir once more.

Strain the juice from the tinned mandarins into a measuring jug and add enough cold water to fill to 285ml.

Add to the jelly, stir once more then pour over the swiss roll. Scatter half the mandarins over the top of the jelly, then place the bowl into the fridge to set, for at least 1 hour.

Meanwhile, make the chocolate mousse. Place the chocolate into a bowl set over a pan of simmering water and heat until melted. Remove from the heat and whisk until smooth, then set aside to cool slightly.

Pour the cream into a large bowl and whisk until semi-firm peaks are formed – you want the cream to hold it's shape but not be solid. In a separate bowl, whisk the egg whites to firm peaks.

Pour half the whipped cream into the cooled chocolate, and whisk gently to combine, then fold in the whisked egg whites until totally combined.

Spoon over the top of the set jelly, then spoon the remaining whipped cream over the top.

Scatter the remaining mandarin segments and flaked almonds over the top. Serve straightaway or cover, transfer to the fridge and eat within 3 days.