Desserts Chocolate Pots with Pistachio Praline
---
Preparation Time: 15 minutes
Cooking Time: 45 minutes plus cooling time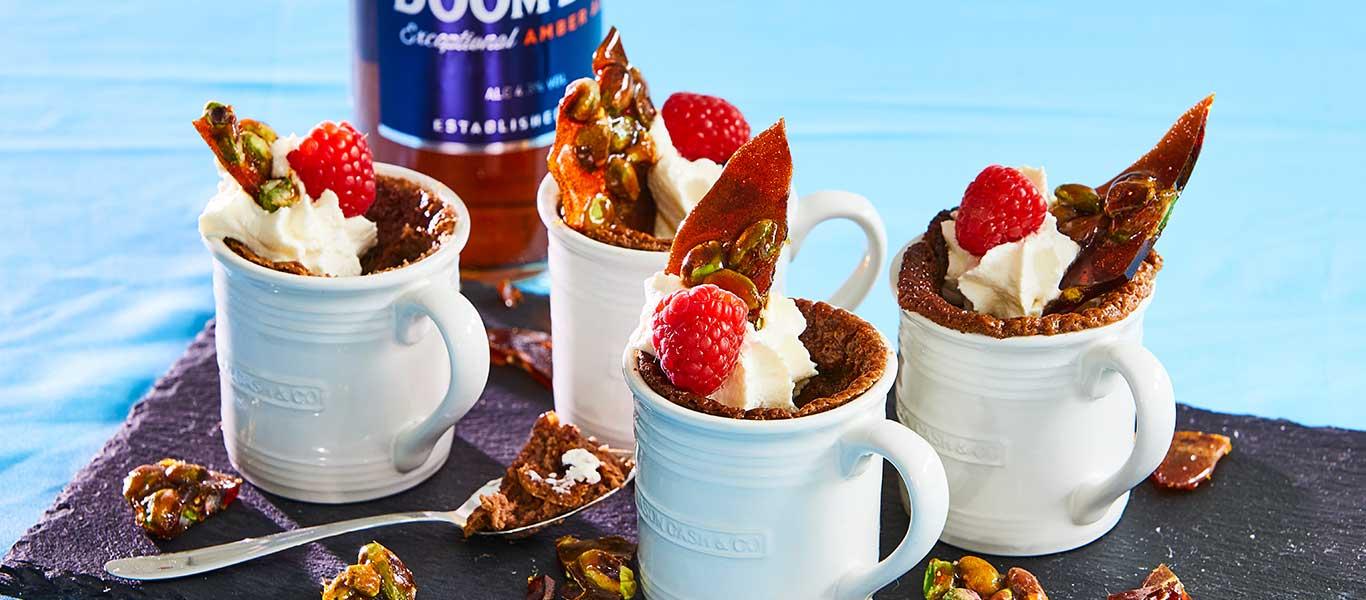 Ingredients
300ml double cream, plus extra to garnish
1-2 tbsp brandy
100g light chocolate 37%, broken into small pieces
2 large egg yolks, at room temperature
50g golden caster sugar
raspberries, to garnish
For the pistachio praline
50g caster sugar
25g pistachio nuts, roughly chopped
Method
Preheat the oven to 160°C/Fan140°C/Gas Mark 3. Fill a saucepan 1/3 full with water and bring to the boil. Place the cream, brandy and chocolate in a large mixing bowl. Place on top of the sauce pan, without the water touching the bottom of the bowl. Reduce the heat to simmer and allow the chocolate to melt, stirring from time to time. Once the chocolate has melted and the mix is smooth remove the bowl from the saucepan.

Whisk the yolks and sugar for 2-3 minutes with an electric hand held whisk until pale. Slowly whisk in the chocolate mixture until combined. Strain through a sieve into a measuring jug.

Bring a kettle of water to the boil. Divide the chocolate mix between 4 x 130ml ramekins or ovenproof cups. Place the ramekins or cups in a roasting tray. Pour enough water into the roasting tin to come half way up the sides of the ramekins or cups. Place in the oven and bake for 45 minutes.

Meanwhile, to make the praline, melt the sugar in a saucepan on a low heat without stirring. The sugar will dissolve and turn a caramel colour. Add the pistachios and pour on to a baking tray lined with baking parchment. Allow to cool and set then break in to shards.

Cool the chocolate pots in the roasting tray, still in the water. Once cool remove the chocolate pots from the water, cover and place in the fridge for 2-4 hours. Serve at room temperature. Garnish with whipped cream, raspberries and the pistachio praline shards.