Preparation Time: 10 minutes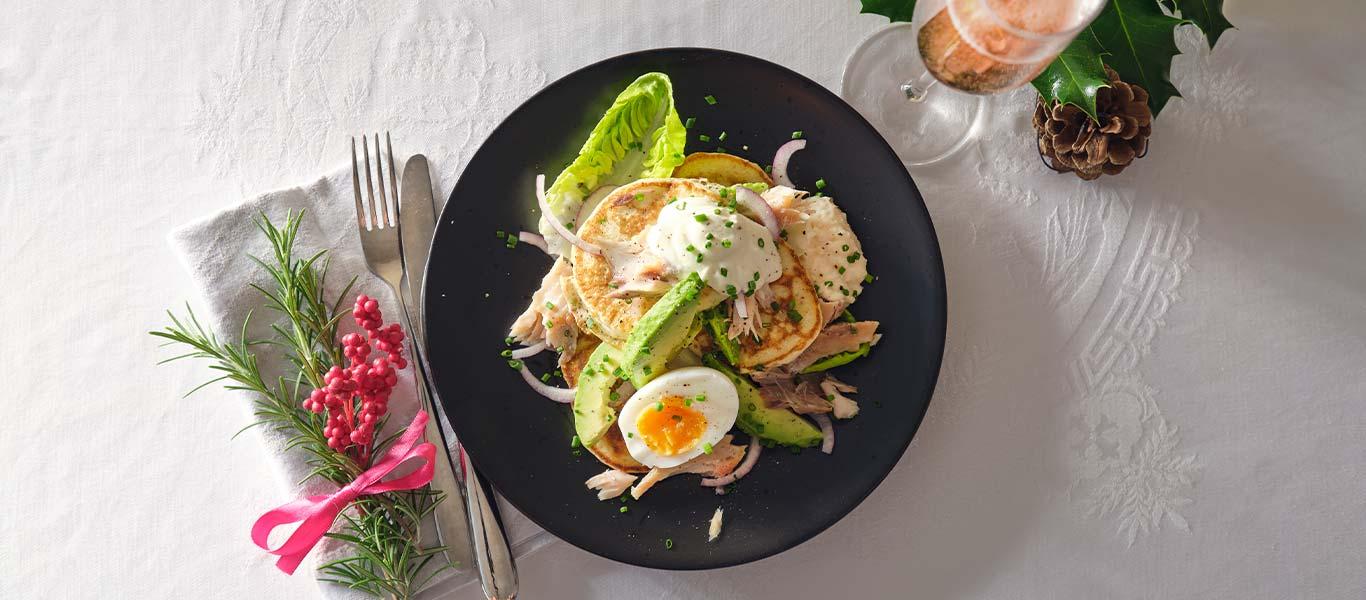 Ingredients
3 eggs
100g self-raising flour
½ tsp baking powder
4 tbsp horseradish sauce
Sea salt and freshly ground black pepper
150ml semi skimmed milk
Spray oil
1 head little gem lettuce, leaves separated
1 avocado, stoned and sliced
300g smoked mackerel, skinned and flaked into large pieces
¼ red onion, finely diced
4 tbsp sour cream
1 tbsp chopped chives
Nutrition
Calories column
Fat column
Saturates column
Sugars column
Salt column

Calories
535

per serving

27%

%GDA

Fat
36g

per serving

51%

%GDA

Saturates
9g

per serving

45%

%GDA

Sugars
5g

per serving

6%

%GDA

Salt
2.30g

per serving

38%

%GDA
Method
Bring a pan of water to the boil. Add 2 of the eggs and return to the boil, then simmer for 4½ minutes until soft boiled. Drain and run under cold water until cool to the touch, then shell the eggs.

Tip the flour and baking powder into a bowl. Stir together and make a well in the centre. Crack the remaining egg into the well then add 2 tbsp horseradish sauce, salt and black pepper and the milk.

Whisk together to form a thick batter, starting in the centre and working your way out to the edge of the bowl.

Heat a non-stick frying pan until medium hot. Add a little of the oil and swirl around the pan until coated then turn the heat down to medium. Pour a small amount of batter into the pan – you'll want it to be about 7cm diameter.

Pour as many as will fit in the pan leaving at least 2cm between them. Cook for 1 minute until the batter starts to bubble and colour around the edges. Flip over and cook for another minute until just set. The pan wants to be hot but not too hot so that it burns before the batter has a chance to cook through. Adjust the temperature as needed after 30 seconds on the first pancake. It should take a good minute to get to the point where the blini has bubbles on it before flipping over otherwise the bottom will burn.

Place onto a baking tray and cover with foil. Place in the oven to keep warm while cooking the next batch.

Divide the blinis between serving plates, then top with the little gem, avocado, smoked mackerel, red onion and halved egg. Finish with a dollop of sour cream and remaining horseradish, scatter the chives over the top and serve immediately.