Preparation Time: 15 minutes
Cooking Time: 50 minutes, plus cooling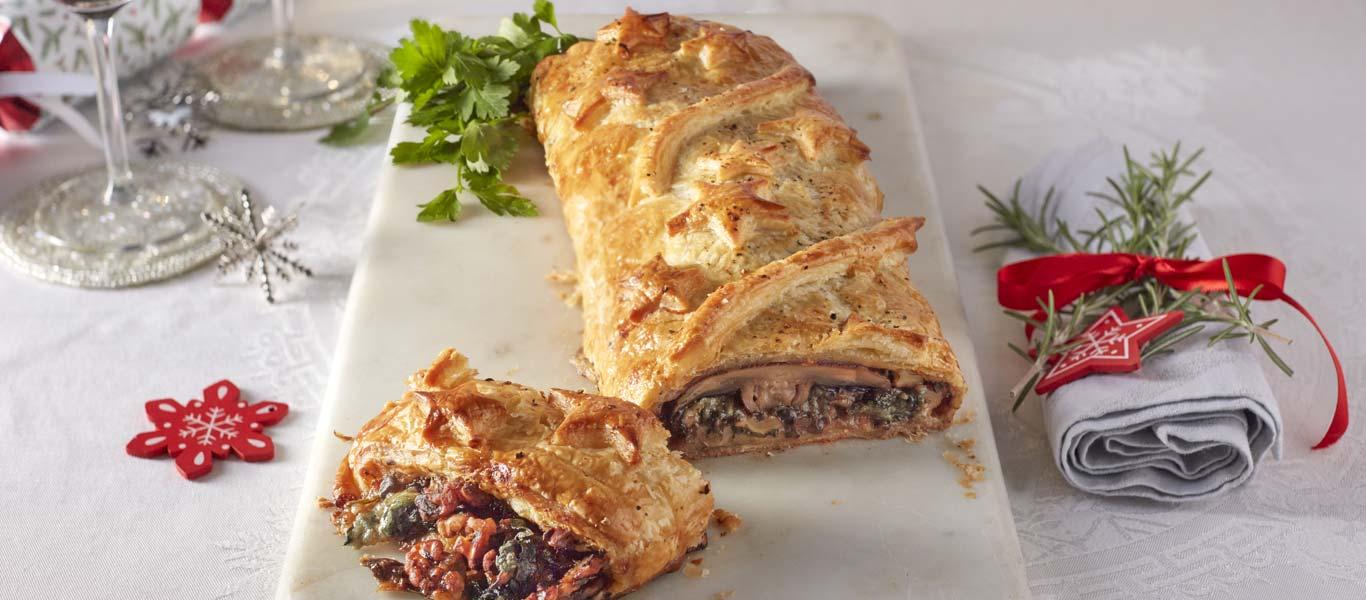 Ingredients
4 Portobello mushrooms, trimmed
1 tbsp olive oil
Sea salt and freshly ground black pepper
1 onion, roughly chopped
1 tbsp roughly chopped thyme leaves
2 garlic cloves, finely grated or crushed
300g finely chopped mushrooms
250g baby spinach leaves
80g walnuts, roughly chopped
1 tbsp soy sauce
Pinch of ground nutmeg
1 x 320g ready rolled puff pastry, room temperature
100g blue cheese – stilton or Castello creamy blue, cut into 4 pieces
1 egg, beaten
Nutrition
Calories column
Fat column
Saturates column
Sugars column
Salt column

Calories
635

per serving

32%

%GDA

Fat
46g

per serving

66%

%GDA

Saturates
18g

per serving

90%

%GDA

Sugars
5g

per serving

5%

%GDA

Salt
2.10g

per serving

35%

%GDA
Method
Preheat the oven to 200°C/fan 180°C/ gas mark 6.

Place the Portobello mushrooms, gill side up, onto a tray, drizzle with half the oil and season with salt and black pepper. Place in the oven to roast for 12 minutes, until golden brown and tender.

Meanwhile, heat a frying pan until hot. Add the oil and onion and sweat for 3-4 minutes until just softened.

Add the thyme leaves, garlic and chopped mushrooms and fry for 3-4 minutes until the mushrooms have released all their water and the mixture is dry. Stir in the spinach leaves and cook for 1-2 minutes until wilted down and all the liquid evaporated. Remove from the heat and stir in the walnuts, soy sauce, then season with salt, black pepper and ground nutmeg and stir well.

Set aside both the mushrooms and the spinach mixture until cold – it's really important to be cold when you assemble the Wellington.

Unroll the pastry in it's paper onto a baking tray. Cut a strip of 3cm off from one end and set aside. Lay the 4 roasted cooled mushrooms, gill side up, in a line lengthways down the centre of the pastry.

Place the cheese in the centre of each mushroom then pile the spinach mixture over the top and press down lightly.

Fold the pastry over the top then roll over so that the seam is on the bottom.

Brush the pastry with beaten egg. Cut the small strip of pastry into ribbons and stars, and place on top.

Brush with the beaten egg then season with salt and black pepper.

Bake in the oven for 25-30 minutes until golden brown and hot through. Serve with roasted vegetables.