Preparation Time: 10 minutes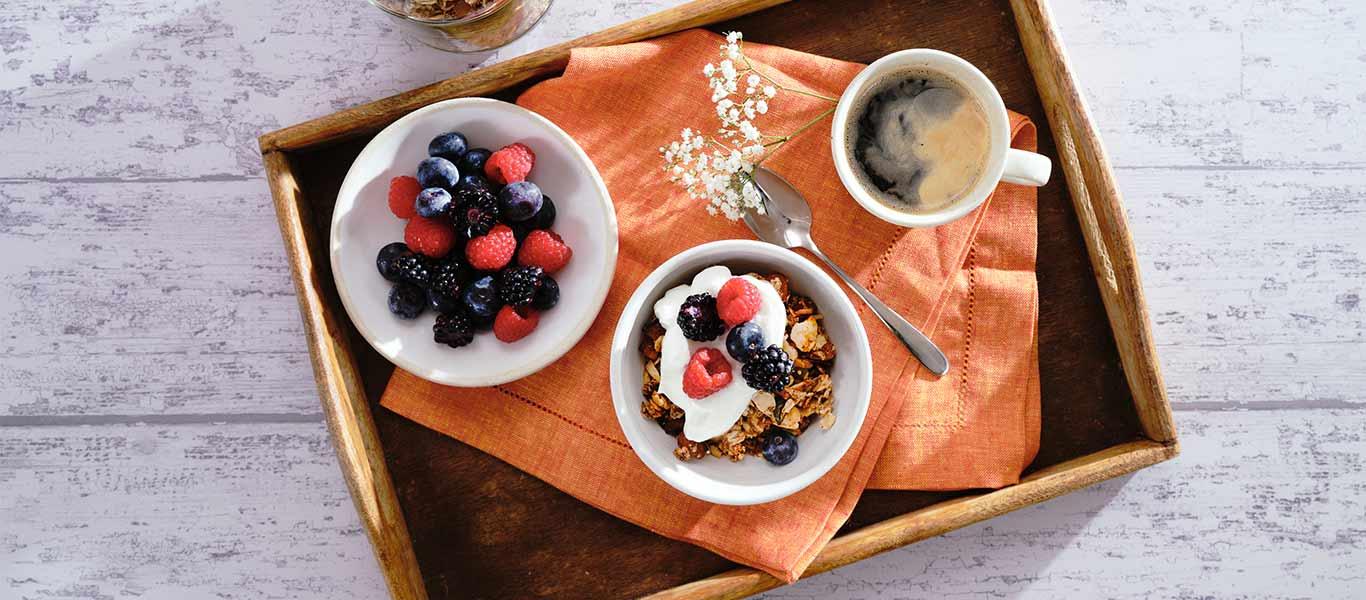 Ingredients
4 tbsp vegetable or coconut oil
2 tbsp maple syrup
2 oranges, zested
200g porridge oats
80g flaked almonds
4 tbsp mixed seeds – pumpkin, sunflower, sesame or chia seeds, optional
1 tbsp ground cinnamon
160g dried apricots, roughly chopped
200g 0% fat Greek yoghurt
160g mixed berries
Nutrition
Calories column
Fat column
Saturates column
Sugars column
Salt column

Calories
411

per serving

21%

%GDA

Fat
20g

per serving

29%

%GDA

Saturates
2g

per serving

10%

%GDA

Sugars
17g

per serving

19%

%GDA

Salt
0.20g

per serving

3%

%GDA
Method
Preheat the oven to 180°C, fan 160°C, gas mark 4. Line a medium baking tray with parchment paper.

Pour the oil, syrup and orange zest into a large bowl and mix together. Add the oats, almonds, seeds, cinnamon and dried apricots and toss until combined and coated in the syrup.

Pile into the baking tray and press down gently with the back of a spoon – you want to pack the tray quite tightly so that it sticks together – this will help make it more "granola" like.

Place in the oven for 30 minutes until golden brown and just crispy.

Leave to cool totally before breaking up into pieces. Store in an airtight container if not using straightaway.

Divide between serving bowls and top with a dollop of yoghurt and some mixed berries.