Preparation Time: 5 minutes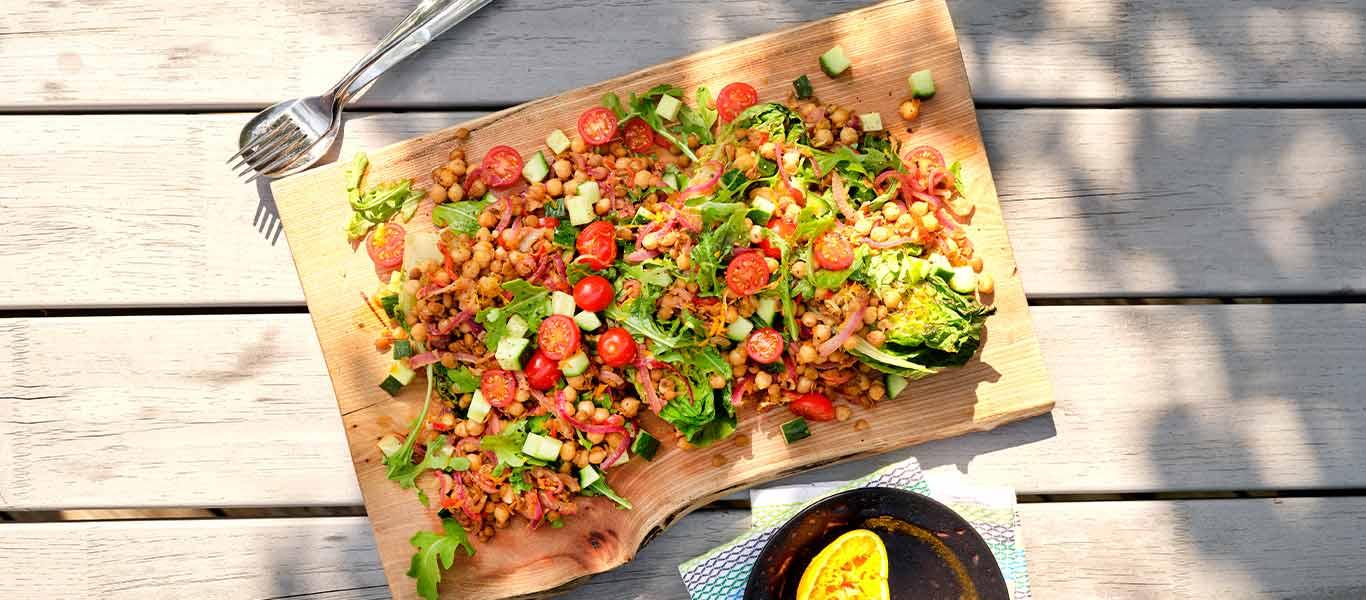 Ingredients
2 heads little gem, halved
1 tbsp olive oil
1 red onion, finely sliced
2 red chillies, seeded and finely chopped
1 x 400g tin chick peas, drained and rinsed
1 x 400g tin lentils, drained and rinsed
Sea salt and freshly ground black pepper
1 lemon, zested and juiced
1 orange, zested and juiced
2 tbsp extra virgin olive oil
40g rocket
½ cucumber, roughly chopped
160g cherry tomatoes, halved
Nutrition
Calories column
Fat column
Saturates column
Sugars column
Salt column

Calories
246

per serving

12%

%GDA

Fat
11g

per serving

16%

%GDA

Saturates
2g

per serving

10%

%GDA

Sugars
5g

per serving

6%

%GDA

Salt
0.30g

per serving

5%

%GDA
Method
Heat a frying pan until hot. Add the little gem, cut side down and sear for 30-45 seconds until just browned, then place onto a serving plate.

Add the olive oil and red onion and cook for 3-4 minutes until just softened then add the chillies and cook for another minute.

Stir in the chickpeas and lentils and stir fry for 4-5 minutes until hot through and just beginning to crisp.

Season with salt and black pepper and stir in half the lemon and orange zest and juice.

Layer a third of rocket, cucumber and cherry tomatoes onto the little gem and scatter a third of the chickpea mixture over the top, then repeat with the remaining layers.

Zest the rest of the lemon and orange over the top, then squeeze the juice over the top and serve straightaway.