Preparation Time: 10 minutes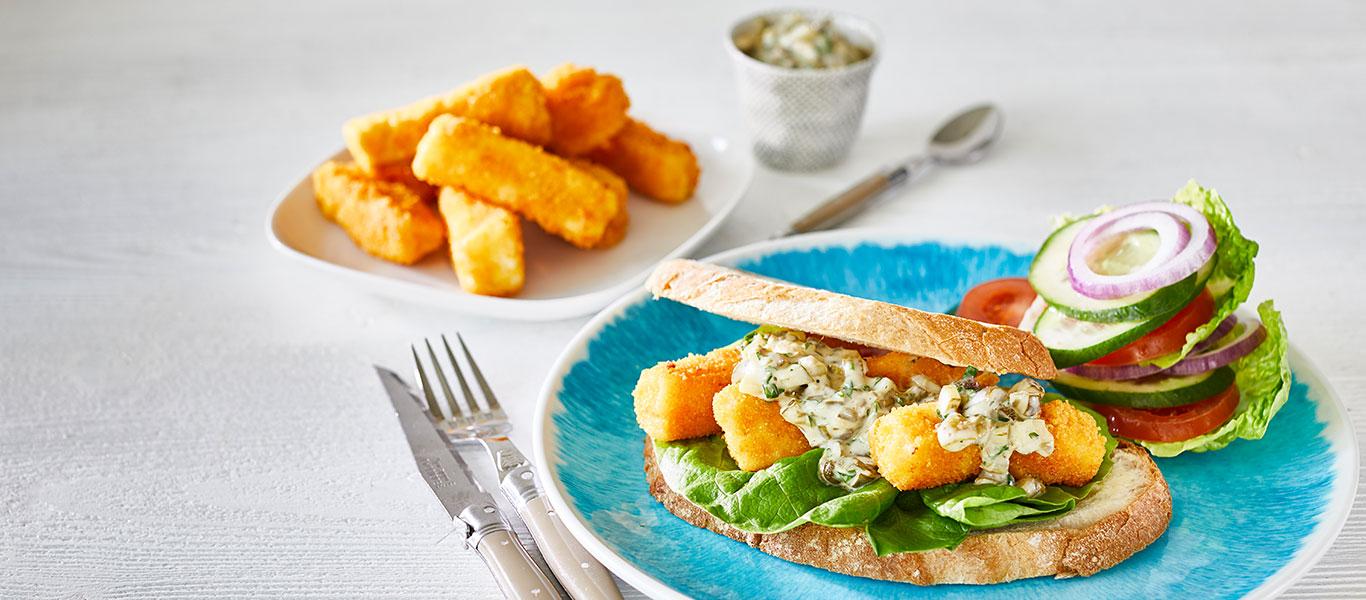 Ingredients
75g plain flour

sea salt and freshly ground black pepper

2 eggs, lightly beaten

100g dried breadcrumbs

300g cod or haddock fillets, cut into 2cm thick slices

vegetable oil, for shallow frying

100g light salad cream

1 large/2 medium gherkins, finely chopped

2 tbsp capers, roughly chopped

2 tbsp roughly chopped flat leaf parsley

8 thick slices of bread

4 large leaves round lettuce

2 salad tomatoes, thickly sliced

¼ cucumber, thickly sliced

½ red onion, cut into rings

1 head little gem, leaves separated

4 tbsp tomato ketchup
Nutrition
Calories column
Fat column
Saturates column
Sugars column
Salt column

Calories
643

per serving

32%

%GDA

Fat
15g

per serving

21%

%GDA

Saturates
2g

per serving

10%

%GDA

Sugars
14g

per serving

16%

%GDA

Salt
2.20g

per serving

37%

%GDA
Method
Season the flour with salt and black pepper and place into a shallow bowl, then place the eggs into another bowl and the breadcrumbs in a third one.

Drop the strips of cod into the flour, then shake the flour off and drop the cod into the eggs, then straight into the breadcrumbs and mix round until totally covered.

Pour enough vegetable oil into a sauté pan to fill 1cm deep. Heat until medium hot then add the fish fingers a few at a time and shallow fry until for 1-2 minutes until golden, then flip over and cook for another 2 minutes until golden brown, crispy and cooked through.

Remove and place onto a kitchen paper lined plate to drain. Repeat with the remaining fish fingers.

While the fish cooks, make the tartare sauce – pour 80g of the salad cream into a small bowl, then add the gherkin, capers and parsley and mix well.

Spread the remaining salad cream over half the bread slices, then cover with a round lettuce leaf. Divide the fish fingers between the sandwiches, then top with a dollop of tartare sauce and the last pieces of bread.

Serve with the tomatoes, cucumber, red onion and little gem piled alongside, and tomato ketchup if you fancy it.