Preparation Time: 10 minutes
Cooking Time: 1 hour & 15 minutes - 8 hours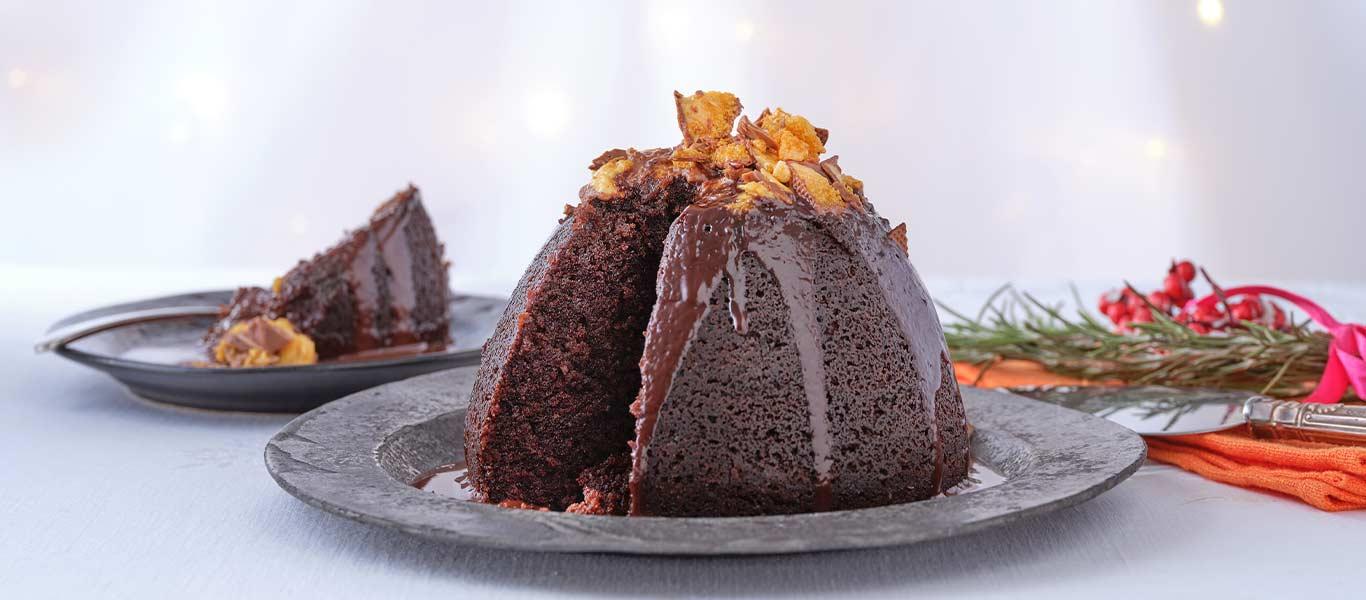 Ingredients
115g butter
75ml semi skimmed milk
1 tsp vanilla extract
125g self-raising flour
150g soft dark brown sugar
25g cocoa powder
1 tsp ground cinnamon
½ tsp bicarbonate of soda
205ml Coke Zero coca cola
1 egg
120ml whipping cream
150g dark chocolate, roughly chopped
1 crunchie bar, roughly crushed
Nutrition
Calories column
Fat column
Saturates column
Sugars column
Salt column

Calories
440

per serving

22%

%GDA

Fat
26g

per serving

37%

%GDA

Saturates
16g

per serving

80%

%GDA

Sugars
33g

per serving

37%

%GDA

Salt
0.70g

per serving

12%

%GDA
Method
Lightly butter a 1 litre pudding basin (ceramic or plastic). Place a small disc of parchment in the bottom of the bowl.

Put the butter into a small saucepan with the milk and vanilla extract and heat until the butter is melted, stirring occasionally.

Tip the flour, sugar, cocoa powder, cinnamon and bicarbonate of soda into a separate bowl and mix together.

Pour the butter mixture and eggs into the flour and 125ml Coke Zero and mix gently until combined into a smooth batter then pour into the prepared pudding basin.

If using a plastic pudding basin, cover with the lid, making sure it's attached firmly. If using a ceramic basin, take a large sheet of parchment paper, cover with the same size foil and fold over to form a pleat down the centre. Place on top of the basin and secure with string around the top of the basin.

You can cook in two ways – either in a saucepan or slow cooker. Place in a slow cooker and fill with enough hot water to come half way up the side of the pudding. Cover with a lid and set on high to cook for 4 hours or low for 8 hours.

Alternatively, place a doubled over sheet of kitchen paper in the base of a large saucepan. Place the pudding on the plate and fill with enough water to come half way up the side of the pudding. Bring to the boil, then reduce the heat to a simmer, cover with a lid and set to cook for 1 hour – you will need to top up the water occasionally if the water is simmering to vigorously.

When the pudding has 30 minutes left to cook, make the sauce. Pour the whipping cream and cola into a small saucepan and bring to the boil.

Remove from the heat and stir in the chopped chocolate. Keep stirring gently until the chocolate has melted then set aside to cool slightly.

Turn the pudding out onto a serving plate and pour the sauce over the top. Decorate with shards of Crunchie and serve the extra sauce alongside.