Preparation Time: 10 minutes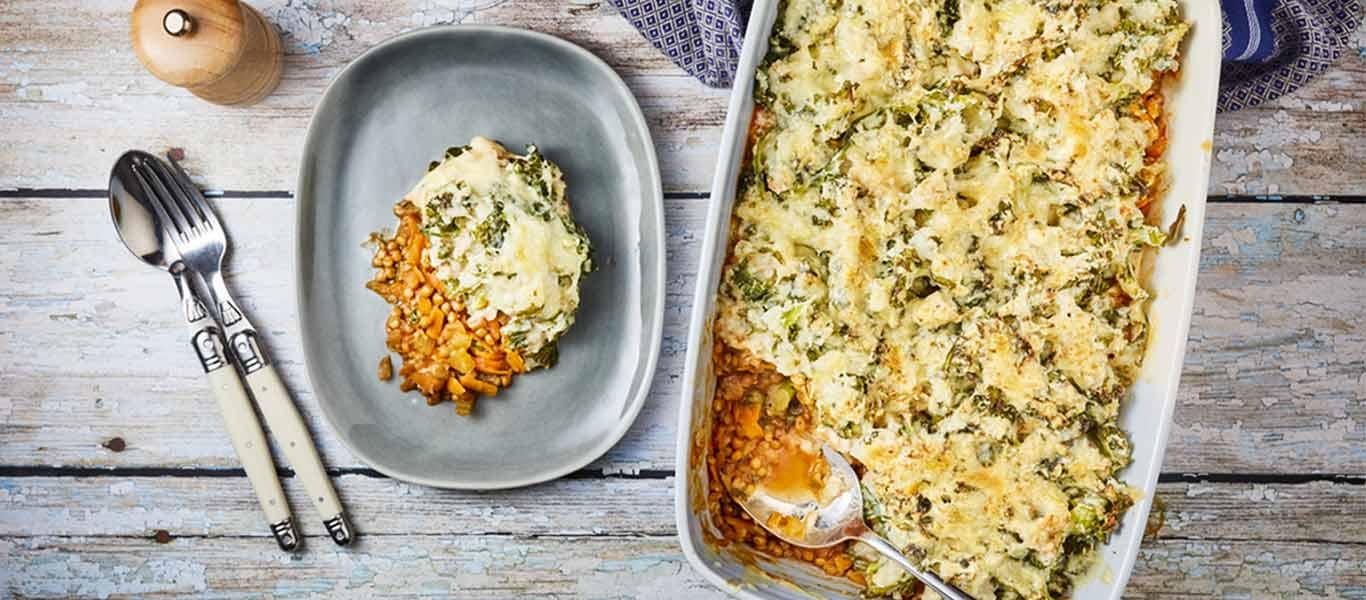 Ingredients
800g white potatoes, peeled and cut into chunks
1 tsp vegetable oil
1 onion, roughly chopped
2 sticks celery, roughly chopped
4 carrots, peeled and finely chopped
2 tsp finely chopped thyme leaves
1 tbsp tomato puree
2 x 400g tins green lentils, drained and rinsed
1 vegetable stock cube/pot
4 tbsp brown sauce
Sea salt and freshly ground black pepper
75ml semi skimmed milk
120g kale, chopped
100g reduced fat/lighter extra mature cheddar cheese, grated
320g green beans
Method
Tip the potatoes into a saucepan, then add enough cold water to cover them. Bring to the boil then turn the heat down and simmer for 15 minutes until tender.

Meanwhile, heat a sauté pan until hot. Add the oil, onion, celery and carrots and cook for 5 minutes until just softened.

Add the tomato puree and thyme leaves and cook for 1 minute.

Stir in the lentils, brown sauce and vegetable stock cube then add 400ml water and bring to the boil. Cover with a lid and simmer for 10 minutes until the vegetables are tender and the liquid slightly reduced. Season with salt and black pepper.

Drain the potatoes and return to the pan with the milk then mash well until smooth. Add the kale, salt and black pepper. Cover with a lid and return to a very low heat for 5 minutes, until the kale is just tender then stir really well.

While the kale steams, bring a pan of water to the boil, add the beans and simmer for 3-5 minutes until tender.

Spoon the lentil mixture into a baking dish then spoon the kale mash over the top.

Scatter the cheese over the top and place under the grill until golden and bubbling.

Serve straightaway with the beans.