Preparation Time: 10 minutes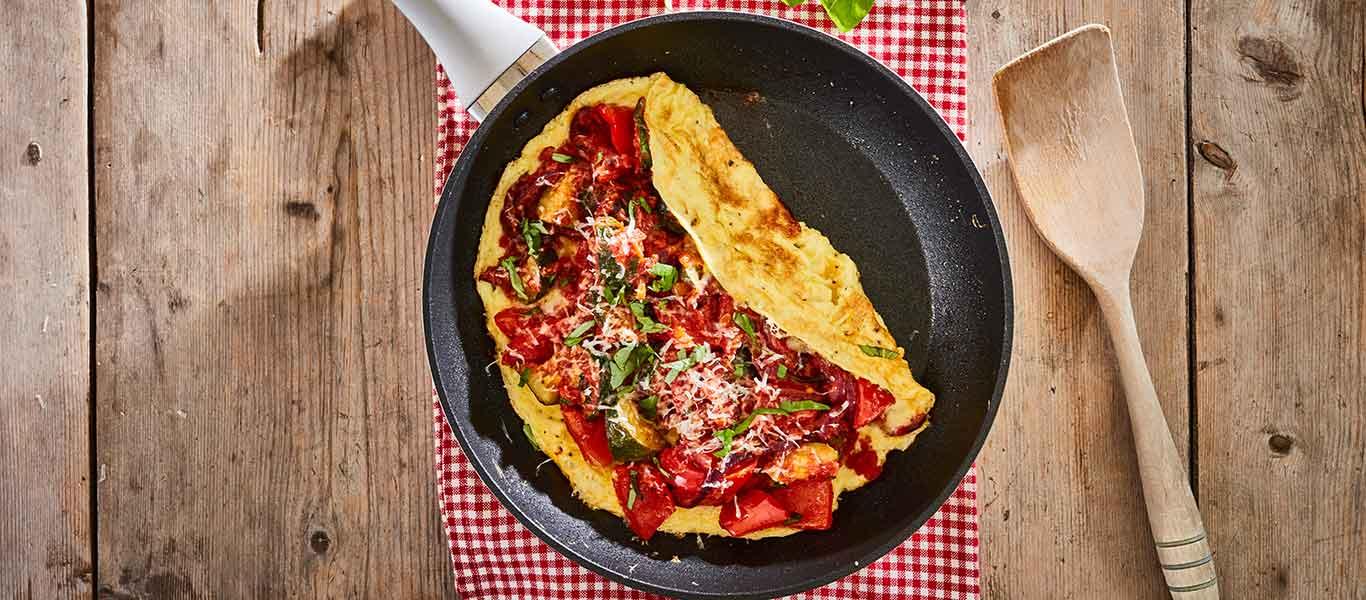 Ingredients
1 tbsp olive oil ½ red onion, finely sliced
1 garlic clove, finely grated or crushed
1 red pepper, seeded and cut into chunks
1 small courgette, thickly sliced
1 x 200g tinned chopped tomatoes
Sea salt and freshly ground black pepper
1 small handful basil leaves
4 eggs
50g cheddar cheese, finely grated
1 tbsp finely grated parmesan
1 bag green salad, to serve
Method
Heat a sauté or frying pan until medium hot. Add half the olive oil and the red onion and sweat for 2-3 minutes until softened.

Add the pepper and courgettes and fry for 2 minutes then cover with a lid and cook for 2-3 minutes. Add the garlic and tomatoes and bring to the boil.

Turn the heat down to a simmer, cover and cook for 4-5 minutes until the vegetables are just tender.

Season with salt and black pepper then stir in half the basil and set to one side, or decant into a bowl, cover with cling film, and wipe out the pan.

Crack the eggs into a bowl and whisk until smooth. Season with a touch of salt and black pepper then stir in the cheddar cheese.

Heat a medium frying pan until hot. Add the remaining oil and the eggs. Quickly tilt the pan so that the eggs cover all the base of the pan, then pull the sides in with a spatula so that the runny egg from the centre goes to the edges and cooks. Repeat until all the egg is just cooked.

Spoon the ratatouille over half of the omelette, then scatter with the remaining basil and the parmesan and flip the other half over to just cover.

Serve straightaway with a green salad.